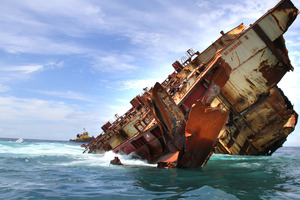 Rena's captain and navigational officer have visited Motiti Island to apologise to residents for grounding the cargo ship on Astrolabe Reef.
When Rena grounded on October 5 last year, Motiti Island was transformed from a pristine green paradise to an oil-soaked mess. Residents were shocked, saddened and angry.
But last Thursday, a meeting for forgiveness was held at one of the island's marae after a request from a local kaumatua.
The meeting was not made public but the Bay of Plenty Times has since learned of it and another meeting about a month ago at Welcome Bay's Tahuwhakatiki (Romai) Marae, which was part of the men's restorative justice programme.
Iwi liaison for Motiti Island Rangi Butler said the Motiti meeting was "wonderful" and broke down barriers.
"Everyone over there forgave them and it was a good thing because now we can move on and they can move on," she said.
"There were three who did not want to forgive so ... that's their choice."
Ms Butler said the Filipino men were accompanied by their lawyers but spoke using good English.
"We are indigenous to Aotearoa and they are indigenous to their country and at the end of the day it's about the people. It's not about political issues, that will come later no doubt. It was good restorative justice."
The two men were charged by Maritime New Zealand under section 65 of the Maritime Transport Act 1994 for operating a vessel in a manner causing unnecessary danger or risk.
The captain was also charged with being the master of a ship from which harmful substances and/or contaminants were discharged into a coastal marine area.
The second officer is charged with being responsible for the watch of a ship from which the same offence occurred.
The identities of the two men remain suppressed.
A Motiti Island resident, who spoke on condition he was not named, said he felt for the captain. "He just said that he was sorry he hit the rock," the man said.
"It was all right. I could sympathise with him a little bit. We asked if he had gone home and if he was allowed to go home but he wasn't and he couldn't bring his family back."
The wives of the captain and navigational watch officer were refused New Zealand visitor's visas in December, just before Christmas.
The man said the captain's apology had gone down surprisingly well for some local residents.
"Some of them didn't want to talk to him but it ended up they did, just to hear his side of it."
Motiti Island kaumatua Graham Hoete did not attend the meeting and said many of the locals had grown weary with the ongoing Rena clean-up and visitors.
"We are getting a bit tired. We don't know when it's going to stop," Mr Hoete said.
"I feel a bit sorry for our people. There's so few of us."
Tauranga Moana Restorative Justice Co-operative Trust manager John Delaney said although the Motiti meeting was an iwi-based move, he applauded it and said the trust had considered something similar for the wider community.
"We were looking at some people with the business industry being given a forum, but the size of that was going to be pretty massive," Mr Delaney said.
"It was a very frustrating experience for so many people at first. So to put him in front, the person responsible, that is a very useful outlet for parties concerned," Mr Delaney said.
The captain and navigational officer are expected to reappear in Tauranga District Court on May 25.

For more articles from this region, go to Bay of Plenty Times