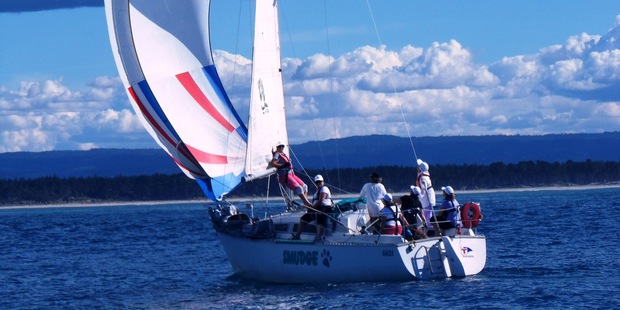 The Auckland to Tauranga yacht race has been sailed for most years on Easter Thursday since 1921 - but tomorrow's race will be a notable first.
The only all-female crew in the race's history will take on the formidable challenge onboard SMUDGE, a 1986 Bruce Farr-designed 9.2m yacht.
Skipper Rhonda Ritchie and crew members Leslie Goddard, Jackie Holt, Delwyn Hodgson, Laura Vonk, and Aimee Ritchie are all Tauranga-based sailors. They competed in this year's Tauranga Whitianga Yacht Race and the Hauraki Gulf 100 Miler.
The women are avid competitors in Women On Water, a racing series with as many as 20 yachts helmed or skippered by women at Tauranga Yacht and Power Boat Club.
Ritchie, who says she is one of three 60-plus sailors on board, says completing the race tomorrow in one piece within 24 hours is the goal.
"I have always had a hankering to do the Auckland-Tauranga race," she said.
"When I spoke to my crew, quite a few of those girls were also quite keen to have a go. The thought that we could actually do it as an all-women crew was very appealing.
"We don't have anything against the men at all. It is just that if you sail as an all-women crew then you have to take all of the responsibility. You don't just sail as a crew member and do as you are told.
"The thought of taking on control of the campaign and getting ourselves A to B on the boat without any male on board to help is quite a challenge."
To qualify to enter the Auckland to Tauranga race, SMUDGE needed some major upgrades done, particularly a late rigging issue.
"To do a coastal race you have to upgrade to a category 3 safety level, with heavier life lines, and we had to replace the rigging and electrical wiring, and upgrade the sails."
Ritchie and her crew are grateful for sponsorship from Women's Yacht Racing New Zealand (WYRNZ) to get the repairs done
"When they came on board we were able to get the rigging done, so that was a very significant contribution."
The Auckland to Tauranga race begins - weather permitting - at the Royal New Zealand Yacht Squadron (RNZYS), Westhaven, Auckland at 10am tomorrow.