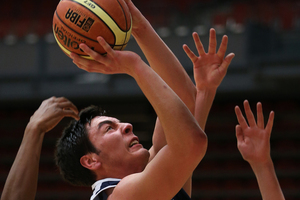 Sport can be a fickle business.
Tauranga Boys' College found that out at the secondary school basketball nationals in Palmerston North on Wednesday when, in retrospect, they missed out on a quarterfinal spot by just one miserable bucket.
The team swept Hutt Valley High School aside 109-74 in their final match in pool play after earlier knocking off highly ranked Westlake Boys' High School 75-72, but it did not matter.
A heartbreaking overtime loss to Rangitoto College on Tuesday meant the top three teams in Pool Two would be tied if Westlake managed to get past Rangitoto on Wednesday. They did just that, running out the score to 84-73 to earn the second quarter-final spot and leave Tauranga Boys' to fight it out for the minor placings.
The result rendered Tauranga Boys' final match in pool play irrelevant.
That game against New Plymouth Boys' High School was lost in overtime 77-76 yesterday.
The highest the team can finish is thirteenth.