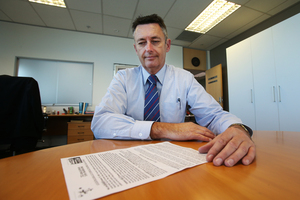 If a tide of debt swept many of the old guard from the Tauranga City Council, then those who were elected to take their place should take it as read that voters expect them to shore up the city's finances.
The election wiped out seven of the 10 councillors and Mayor Stuart Crosby clung to his mayoral chains by just over 500 votes.
This week the Bay of Plenty Times revealed the scale of the task ahead of the new council.
A report by credit rating agency Standard & Poor's predicts the council's debt will grow by more than 10 per cent over the next three years. Debt is officially recorded as $380 million but some council watchdogs say this figure is conservative.
If things don't improve, there is a chance the city's credit rating could drop.
The council is faced with the unenviable task of providing costly infrastructure for a rapidly growing city - newly released Census data shows Tauranga's population has jumped almost 11 per cent since 2006 - while at the same time trying to keep its burgeoning debt levels in check.
The community might appreciate the challenges faced by the council in catering for the needs of a growing city but it does not want this to result in unsustainable debt.
And this is why a committee dedicated to keeping an in-depth focus on council finances has been established.
Earlier Mr Crosby said he wanted the committee to be supported by independent experts on local government accounting and the committee's brief would extend to council properties and council-controlled organisations.
It's clear some tough decisions will be required over the next term. Some say the city has to shake off its small town feel and invest in facilities to make one of the fastest growing cities inthe country a more vibrant, exciting place to live. Others say it should stick to the basics and reduce debt.
One of the more controversial projects is likely to be a proposal for a new Greerton Library.
In its simplest form the question is: Does the community need another large library and should ratepayers carry the cost? At a deeper level, the question is whether we as a community think access to knowledge is important.
A project like this raises questions about our priorities, what we want for the city's future, what we are willing to pay for, and what role we think the council should play in the community.