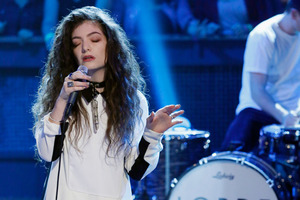 One of the biggest stories circulating the newsroom this week is the 16-year-old Kiwi girl whose self-penned song Royals has hit No1 on the United States Billboard charts.
To put Lorde's achievement into perspective, she is the second Kiwi to do so and the youngest solo artist since American teen Tiffany took the spot with her 1987 remake of the 60s song I Think We're Alone Now.
Lorde (real name Ella Yelich-O'Connor) is a true Kiwi inspiration. Before being old enough to vote she has achieved something that has alluded even our most legendary musical exports.
I don't listen to the 'cool, young' radio stations, in fact, courtesy of my husband my car stereo is currently tuned to Radio Hauraki.
But even on there Lorde's achievement headlined the 9am news yesterday in a nod to the gravity of her musical achievement.
While I'd heard her name bandied about, the first time I put a face to it was when when I watched a television documentary on her rise from Auckland schoolgirl to singing sensation.
There were a few things that stood out to me about the way Lorde conducted herself. She has the innocence of a school girl but the maturity and foresight of an adult. She knows her own mind, what she wants for her career and has her own way of going about it - which is clearly working.
In two controversial moves she initially released Royals free to the world on YouTube and turned down an invitation to be supporting act for superstar Katy Perry because gut instinct told her it didn't feel right.
This week's achievement saw her surpass Katy Perry's hit song Roar on the charts.
Lorde recently made headlines for telling Radio New Zealand she thought the lyrics to Selena Gomez's hit song Come and Get It were pathetic and not something that was healthy or normal for a young girl to listen to.
Lorde has achieved what she has without selling out to skimpy costumes, suggestive dance moves and singing about waiting for boys to validate her self-esteem.
I think Justice Minister Judith Collins summed it up best commenting on Lorde's latest achievement on Twitter: "Great news and she keeps her clothes on too."