Six huge murals to be painted on Tauranga buildings could form part of a walkway that will draw tourists to the city.
That's one hope stemming from the 12-week Paradox:Tauranga Street Art Festival starting Tuesday next week.
The festival is centred around a major exhibition at Tauranga Art Gallery that includes 22 works by the world's most famous street artist, Banksy.
However, it will also include six permanent murals painted on city buildings that will be one to three storeys high. When combined with existing murals by Bay of Plenty artist Owen Dippie, these could form an artistic tourist trail for cyclists and pedestrians.
The festival is being supported by $100,000 from Tauranga City Council's major events fund, $115,000 worth of corporate sponsorship and $80,000 in sponsorship involving vehicle use, food and beverage deals, people, resources, paint and heavily discounted services.
A council spokeswoman said the festival would be "totally free". It was targeted at all age groups, including activities for more than 3000 school children.
"It's being marketed nationwide to draw tourists to the city during the off-peak season," she said. "It's the first of its kind in the North Island."
The council has invited people to watch the murals being painted. Work is expected to start early this week on the first one, at 53 The Strand, with the festival officially opening on March 28.
Sally Cooke of Downtown Tauranga said the murals would be "quite an attraction" and would add to the cityscape.
"It will be fantastic - a great drawcard," she said. "Wouldn't it be great to have an art walking trail?"
The Bay of Plenty Times visited all six mural sites yesterday.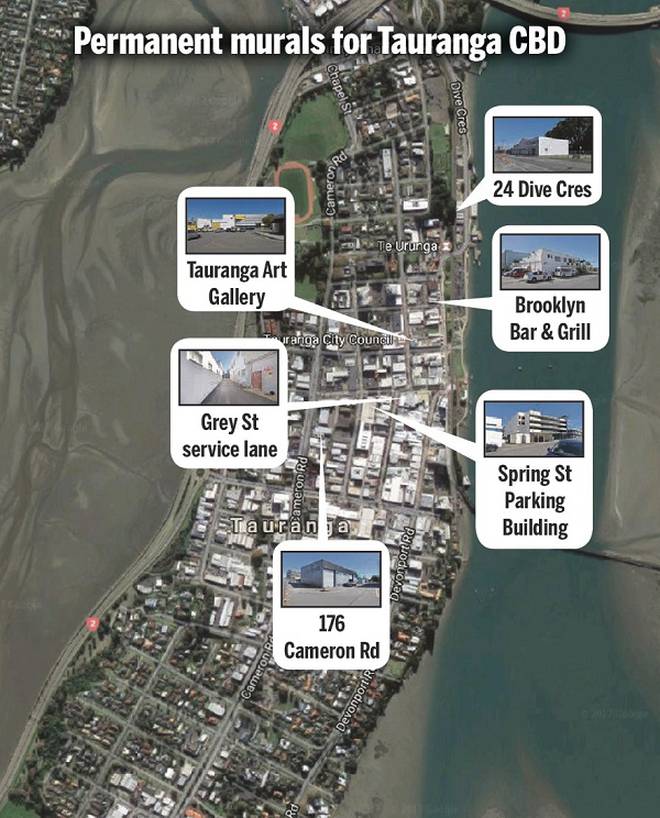 53 The Strand