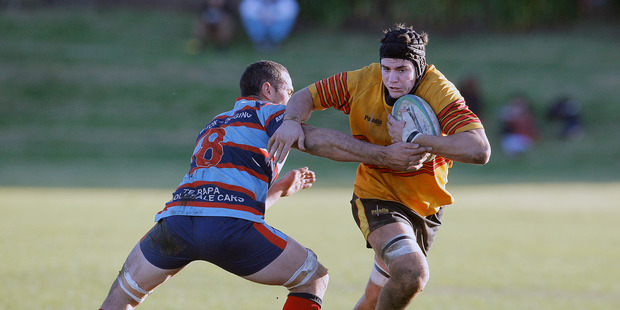 At windy Athletic Park in 1961 the All Blacks beat France 5-3 in a score typical of the risk-free approach to test rugby back then.
But remarkably that was the score on Saturday in perfect winter rugby conditions at Tauranga Domain as Te Puna defeated Tauranga Sports in a major upset.
Defending champions Tauranga Sports lacked urgency and commitment in the final 15 minutes to lose at the Domain to Rangataua Sports last week and again they fell short on their home patch.
The result just adds to the intrigue that is the 2016 Baywide Premier 1 season, with six teams in the play-offs mix with just next weekend's round robin games to go.
Te Puna move up to 14 points, two behind Tauranga, Te Puke Sports and Rotoiti all on 16, with Rangataua clear second on 23 behind run away leaders Mount Maunganui Sports.
Greerton Marist are out of contention this season in seventh place but they pushed the Mounties all the way at Blake Park before losing 34-32 in a thriller.
Te Puke's renowned spirit and ability to life for big games has been a feature over the years since they were known as United Pirates.
There was plenty of evidence of the old swashbucklers about their performance against Rotoiti in a pivotal game to make the top four.
Injuries depleted the squad so much assistant coach and former Chiefs and Steamers midfielder Grant McQuoid played the last five minutes off the bench.
The visitors from Rotorua dominated large periods of the game, particularly into a decent wind in the second spell, but the Te Puke defence was magnificent.
There were none better on the day than the loose forward trio of Danny Underwood, Chulainn Mabbett-Sowerby and Scotland Sevens international Hugh Blake who is contracted to the Steamers for the Mitre 10 Cup.
Loosehead prop and co-captain Aidan Ross put in a timely performance with the Steamers squad set to be announced this week.
Another in Steamers contention is first-five Dan Hollingsworth who shares captaincy duties with Ross.
Hollinshead was proud of the intensity on defence.
"We have talked the last couple of weeks since the Rangataua loss about having our backs up against the wall.
"Us as pirates we love that, having to win every week and it puts a bit of pressure on us.
"It makes us work for each other and it showed in our defence today.
"We had a couple of opportunities that we let slip but we are starting to peak at the right time of the year. The boys are getting a bit of confidence which is good.
"Now we turn our focus to next week and Te Puna and our big jersey game for the (It's Not OK) charity.
"The club are getting behind that and we have to perform as players and make everyone who supports the club proud."
Rotoiti captain Zac Hohneck says poor ball security cost his team victory.
But he says there will be no problem getting his team motivated for next week.
"We love playing the Mount and we are a good enough team to beat anyone when we play to our strengths."
Baywide results, tables Page 27