A record crowd of more than 7000 spectators turned out to watch the Black Caps beat Sri Lanka by three runs in a thrilling finish at Bay Oval, yesterday.
Close to 15,000 people made the most of having the Black Caps playing on their home patch this week, with a one-day international on Tuesday and a Twenty20 yesterday attracting thousands of fans.
Tuesday's one-dayer attracted a record crowd of 6942 at Bay Oval.
This was smashed just two days later, with 7845 spectators watching the Twenty20 match. Tickets sold out about two hours prior.
It was great to be back here playing cricket at Bay Oval. That was the third sell out match we've had this season.

SHARE THIS QUOTE:
Bay of Plenty Cricket Trust general manager Kelvin Jones said the number of people that turned up to both matches was incredible.
"Tauranga has certainly come out and supported high-quality sport, as we knew they would. It's fantastic to see.
"It helps that the weather has played ball for us."
Mr Jones said Tuesday's match had been Bay Oval's biggest, but yesterday's trumped it.
"It's just getting better and better," he said. "We traditionally get great crowds for lower level games, it's a holiday spot and people are still on holiday. Twenty20 at 3 in the afternoon is hard to beat. You can't be at the beach all day."
Mr Jones was pleased at the number of children and families that had come to Bay Oval, yesterday.
There were also a lot of Sri Lanka supporters who added "a lot of colour and noise".
"It's a whole festival atmosphere."
The Black Caps scored 182/4 off their 20 overs after Sri Lankan captain Dinesh Chandima won the toss and decided to bowl in the first of two matches in the series.
The total was built on openers Martin Guptill and captain Kane Williamson who scorched away to be 97/0 after 10 overs.
Guptill followed his 102 on Tuesday with 58 off 34 balls with four fours and four big sixes.
Williamson made 53 off 31 balls and Colin Munro 36.
Sri Lanka lost early wickets chasing down the target with danger man Tilikaratne Dilshan out first ball caught behind off Tauranga's Trent Boult.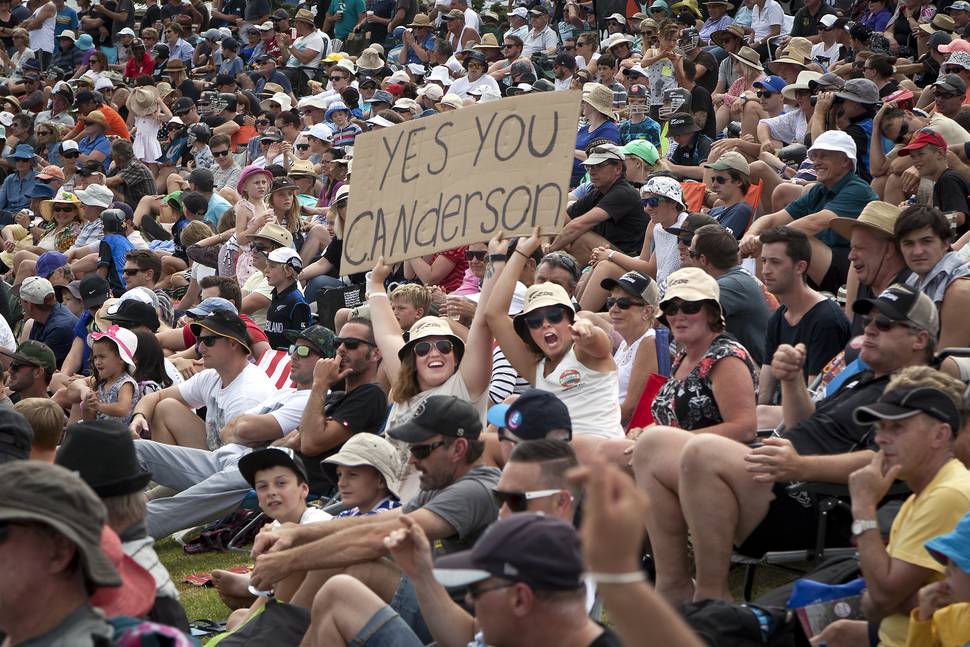 Wickets fell at regular intervals but there were plenty of thrills and big sixes smashed into the crowd to keep them entertained.
Boult ended with the best figures of 3-21 off four overs to claim the man-of-the-match award.
Mr Jones said Williamson's grandmother had come from Taupo to watch.
He said it was great to see Williamson playing on his home turf again after missing the first international match at Bay Oval last year due to injury.
"Kane as a youngster scored one of the first 100s here at this ground. It's neat for him to be here today in a beige shirt."
New Zealand Cricket general manager commercial James Wear said the organisation was happy with the way Bay Oval's matches went.
"It was great to be back here playing cricket at Bay Oval. That was the third sell out match we've had this season."
Mr Wear said New Zealand Cricket had a review at the end of every season to start the planning process for next season's matches. Mount Maunganui's sell-outs put the venue in good stead for next season. Bay Oval will find out mid-year whether it will host another international match.