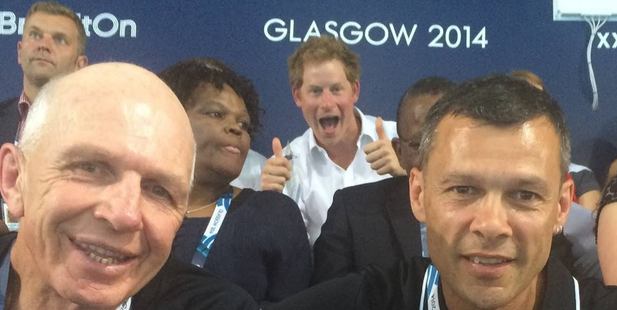 Tauranga's Sir Gordon Tietjens had no idea he was sitting with royalty when he posed for a photo at the Commonwealth Games on Monday night.
The photo of Prince Harry 'photobombing' the New Zealand sporting greats went viral yesterday on social media and international news websites.
The New Zealand rugby sevens coach said he was blown away with surprise when he reviewed the photo taken of himself, Deputy chef de mission Trevor Shailer and sport psychologist Gary Hermansson to discover Prince Harry grinning with both thumbs up in the background.
Mr Tietjens had rushed in to the corporate seating area to catch the swimming finals and was not at all aware of the prince sitting only two rows behind him along with the Duke and Duchess of Cambridge, William and Kate.
"One of the guys wanted to take a photo of us, and it wasn't until I looked at the photo I saw Prince Harry was there in the background.
"I was surprised more than anything because I didn't even realise he was there.
"We turned around and he came down and shook my hand, he was quite a hard case."
Mr Tietjens told the Bay of Plenty Times last night the meeting had been a highlight of the games.
"I was just so shocked. It was quite comical really."
The shock continued when he was told the photo had featured on all the major news outlets in New Zealand and was popular across social media.
The photo posted on the NZ Olympic Team facebook page had more than 12,000 likes and more than 1000 shares last night.
"Are you serious? By jingos." he said.
Mr Shailer shared the photo on his facebook page, changing his profile picture to feature the prince.