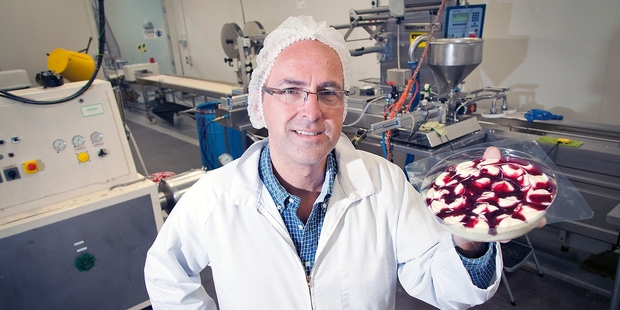 The New Zealand Dessert Company set up its hi-tech manufacturing facility in Papamoa last year with the aim of focusing on exporting, says co-founder and general manager Kevin Cox.
The company got off to a solid start in the local market by picking up the contract to manufacture a well-known international brand of frozen cheesecakes, taking over a contract held by a Netherlands company.
Local demand for its frozen desserts has continued to expand since NZ Dessert Company started operating last May, Mr Cox said.
"We never envisaged that we would do this much business in New Zealand.
"It was all geared for export, but the retailers here keep coming back wanting to know if we can do other things. And I say, we sure can."
Nothing goes offshore at the moment, but the company plans to expand into Australia and Asia. It was appointing a distributor for Singapore, Indonesia and Malaysia, Mr Cox said.
Mr Cox, a Canadian, spent 14 years in Europe and worked for a Dutch company which manufactured frozen desserts for New Zealand. When that company was sold to new owners, he stayed on for nine months, then opted to move to New Zealand three years ago and set up his own business in Tauranga.
He put together a shareholding group made up primarily of Bay of Plenty investors, but including friends in Europe, with Stephen White as chairman.
Despite a major setback when a serious car accident put him out of action for several months last year, the company is now operating profitably.
Mr Cox had been visiting New Zealand for many years on business and after he moved here in October 2011 he took a lease on a building in Papamoa in December 2012, and began building the manufacturing facility using specialised equipment imported from Europe.
As well as the contracts to manufacture the frozen cheesecakes and Bavarians, the company makes a range of frozen fruit crumbles, and is in negotiations with leading retailers to expand the range of lines it supplies.
Andrew Coker, chief executive of Priority One which helped Mr Cox when he was doing his initial feasibility study, said the company was still domestically focused, but planning to expand overseas.
"I understand they're growing rapidly and the facility has a huge capacity for growth." Mr Coker said.
Gavin Cherrie, who initially helped NZ Dessert Company set up its production line and later became a shareholder and director, praised the production team.
"They're really enthusiastic, positive bunch who are constantly trying to do things better," he said.