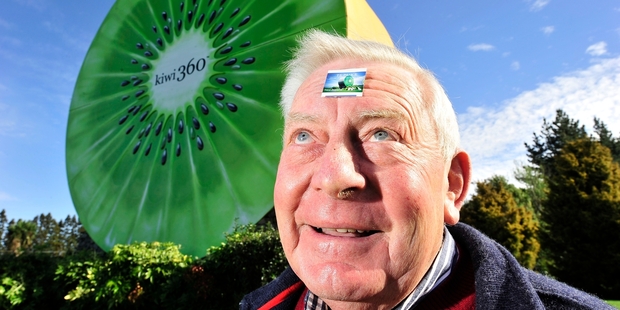 Te Puke's famous giant kiwifruit has been licked for the second time - and Kiwi 360 owner Graeme Crossman could not be happier.
The towering symbol of Te Puke has been selected as one of 18 legendary landmarks by New Zealand Post, coinciding with a big push by the town to lure more tourists.
It has been 16 years since the giant kiwifruit last appeared on a New Zealand Post stamp issue.
This time it lines up with other memorable icons such as Otorohanga's kiwi, Tirau's sheep, and Paeroa's Lemon and Paeroa bottle.
The Legendary Landmarks issue went on sale last week, with the giant kiwifruit also featured on one of five postcards. Mr Crossman said the stamp issue underlined the importance of kiwifruit to the tourism promotion campaign by Te Puke's Economic Development Group (EDG).
"It adds weight to the stuff we are trying to do, to transform the area into something unique."
Kiwifruit was central to Te Puke EDG's "goodness grows here" campaign, where Western Bay's traditional visitor focus on Mauao and beaches had been replaced with kiwifruit, Comvita's manuka honey and dairying.
"It's globally unique.
"People here don't know the huge regard these products are held in overseas," he said.
The giant kiwifruit was unveiled at the same time as Kiwifruit Country opened in 1987 - now renamed Kiwi 360.
Mr Crossman said the landmark was inspired by Queensland's giant pineapple and their promotional campaign was pushing the extraordinary environment that Te Puke offered for growing super-foods.
"It just so happens that that the hero product is kiwifruit.
"The stamp issue is great for Te Puke," he said.