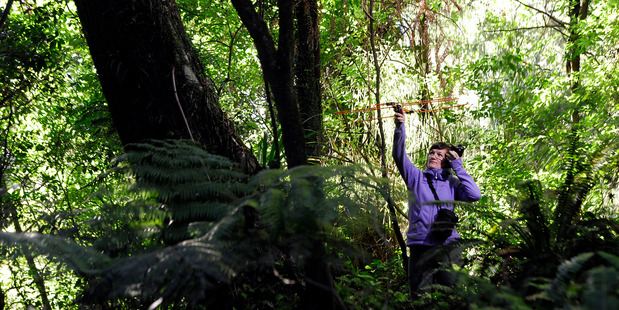 On my first day with the Otanewainuku Kiwi Trust, I ventured up into the Otanewainuku forest to learn how to manage, clear and maintain a stoat trap.
Arriving at the shelter I was surprised to find two dozen or so volunteers jumping around in the sun trying to keep warm in the crisp Sunday morning air.
Volunteer Jenny Black informed us that while Otanewainuku provides a near perfect kiwi habitat for our national icons they are still under huge pressure from stoats, ferrets, feral cats and dogs in the area, thus the reason why we had gathered that day.
The trust had just received its third breeding pair of kiwi and it is for these six birds the volunteers routinely head into the forest to check their stoat lines scattered along the forest floors to keep the pests' numbers at bay.
Ms Black said stoats continued to be responsible for wiping out whole colonies of birds, particularly juvenile kiwis.
"One single male stoat wiped out 97 petrels on Rabbit Island near Mt Maunganui over a three-week period," she said.
As we neared our first stoat trap the volunteers gathered around to get some refresher tips on how to maintain their traps, with each of the volunteers putting forth different ideas they felt worked for them.
Throughout the forest there were 25 different lines of stoat traps with about 40 people actively clearing, removing dead animals and old bait then re-baiting and maintaining the traps - something that didn't seem to phase the self-motivated volunteers standing around me.
Walking back through the forest I was able to catch up with Otanewainuku Kiwi Trust chair Phil Wells who said the kiwi population at Otanewainuku was still a work in progress.
With the forest covering 1200ha and the kiwi trust monitoring 1000ha of that, they had only been able to successfully release six birds over the last several years.
They found initially the kiwi they were releasing were too young and naive and would either run away or get run over, he said.
"We have released them at a smaller size but have been a pretty spectacular failure so we have waited until the birds are about 18 months old so they are past teenage years."
He said females started to go territorial at this age and would breed anywhere from two years if the circumstances were right.
The type of kiwis at Otanewainuku, the North Island brown kiwi, were known to breed for 25 to 30 years and live until they were about 50, he said.
Mr Wells said the ultimate dream of the trust was to return the land to its original state - "having a thousand hectares of bush that is pristine but with all the kiwi and native birds that were originally here".
"We can stabilise that with the pest control and bring back the birds that are missing. Ideally the number of kiwi up here would be 25 individual breeding pairs.
Mr Wells said the trust hoped to achieve that population within the next five years.
With the forest home to the three pairs of kiwi, the trust has been granted the rights to move another four pairs from Southern Whirinaki.
One of these is arriving this weekend.
"If we can get them over here and paired up successfully, we are pretty confident they will give us the right to move more pairs from at-risk populations."
With the North Island brown kiwi population falling away reasonably rapidly, with about 35,000 birds, Mr Wells said projects like theirs were really important.
"Twenty to 30 years down the track we hope we have a few more birds down here. There are still half a dozen other birds which are missing and we will introduce them.
"This is why the work the trust does is so instrumental in their survival."
The forest's oldest pair of kiwi are Maui and Whetu, who have resided in the area for about eight years. In this time they have produced about 40 eggs with only one viable chick hatching.
Pistachio is being raised in Cambridge and will be returning to her parents' neighbourhood in about six months.
Warratah and Fetah have been in the forest only a few months but have started to dominate a part of the native terrain. But it is White Eyes and Manuka, the newest pair of the bunch, that I spent the next day tracking with local couple Melanie and Brian Norton.
Armed with a compass, map and an aerial tracking device we head into the bush to pinpoint the area in which the new birds have decided to settle.
Each of the kiwis is fitted with a radio transmitter on their legs. The transmitter can be picked up by a tracking device that allows somebody to listen to where they are.
Mrs Norton said the monitoring is carried out to make sure the birds have not gone walkabout and to locate where they might make a territory or nest.
Manuka, I am told, has not been located in about a week and a half so is the most important part of the search for the day.
We scurried up the first bank on the opposite side of the road to point the tracking gear in to what we thought would be the right direction to find where the birds might be hiding out.
"These kiwi can move at least 1km a night. If she moves in one direction and doesn't stop, she could be anywhere," Mrs Norton said.
At the top of the ridge we heard Warratah and his transmitter beeping at 30 beats per minute. That means he's alive and well but not incubating at the moment.
If his transmitter was beeping at 48 beats per minute, he would be sitting on his nest, if it was 60 beats per minute, the mortality beep, he would be considered dead, she said.
We continued through the forest where Mrs Norton pointed out the abundance of berries in the trees and across the forest floors.
"You won't see this sort of thing in every forest you go into. It's because of all the pest control we do. If you sat under a tree for 15 minutes, you would see just how many birds are down here."
We make it to the top of the next ridge and Melanie and Brian discuss our bearings and the direction we should next head for.
"Our bird is somewhere in there," Mr Norton says, pointing to his laminated map, which means walking deeper through the forest.
We came across one of the man-made huts the trust has put into the forest to release the birds into and listened on the transmitter again. We picked up the signal directly in front of us and headed due north.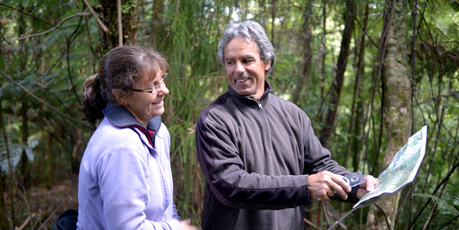 Straight up another bank, clambering over fallen rotten trees, we listened again and realised we were on top of White Eyes' dwelling. We stopped for a quick rest at the top to regroup and decide the direction to go to try to find his mate, Manuka.
At this point we had been in the bush nearly four hours and I was starting to run low on energy.
We headed back in the direction of where the car was parked and decided to split up to cover more ground. Mrs Norton and I headed along the track that led back to the car while Mr Norton went in the opposite direction.
Magically, the next time we turned on our tracker we heard Manuka's beeps instantly.
She hadn't run off and was still safe in the forest - and was only 300m away from her partner.
"On a quite still evening they will be able to hear each other," Mrs Norton said.
"And once you get a few pairs in here and they all start calling there's an anchoring effect, they find strength in numbers too."
I ran down the track quickly to where Mr Norton had gone and screamed at the top of my lungs we have found the missing bird. Relieved but tired, we headed back to the cars. I later found out we had only covered about 2km.
Mrs Norton noted hiking in the bush was a different kettle of fish to a Sunday stroll, but she loved being there.
"I love the birds and I love the bush. I love seeing the bush so healthy because of the work we do. When you start seeing the birds and then being able to hold them in your arms, it really does hook you in. It's all very well to say there's a kiwi in here somewhere, but when you're holding it, that brings it all back," she said.
"You can just make a difference on a small scale if everybody just puts in a little bit into their local area and this is what this is."