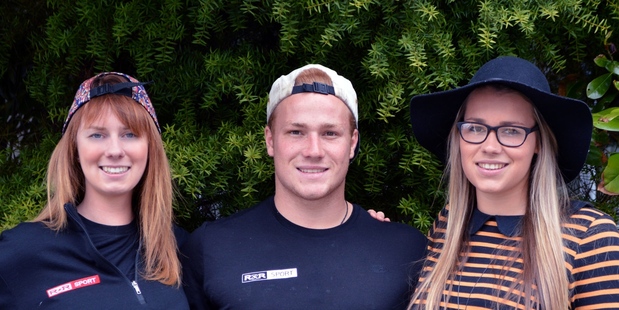 Tauranga-born Tish McNicol and two of her fellow Otago University mates are preparing to travel across Europe with only 24 cans of Red Bull as their currency.
The 21-year-old and brother and sister combo Chessie and Finn Henry are the only Australasian team chosen to take part in the "Red Bull Can You Make It?" competition, which pits 100 university teams from 27 countries against each other in a race from London to Berlin.
Tish McNicol, whose parents Caroline and Ken and 15-year-old sister Amber live in Tauranga, said "excitement went through the roof" when she and her friends learned their short video entry lodged a day before the cut-off date had been successful.
"It is so exciting. We are all so amped and still can't believe we're flying to London next week. Now, it's a mad scramble to rearrange our tertiary studies," she said.
Ms McNicol is in her fourth and final year of a Bachelor of Commerce, majoring in management and minoring in psychology.
During the seven-day epic journey, which starts on April 4 from London, Paris, Milan and Vienna, teams visit checkpoints, share photos and videos, and rally support from followers back home.
Competitors will not be allowed to use cash or credit cards and have to rely on their bartering skills to trade Red Bull cans for food, places to sleep, transport, and other necessities in order to reach the finish line in Berlin on April 11.
At the start of the race, each team is also given a Moto G phone to check in at checkpoints and if a team successfully completes a checkpoint challenge, they are rewarded with more cans of Red Bull for the journey.
Calling themselves the "Freedom Hunters", Ms McNicol said part of her team's strategy would be to clearly identify themselves as Kiwis, from their screen-printed tops, to their backpacks, and the New Zealand flag they'll be carrying. They would also be calling on all their Kiwi charm to garner as much support as possible.
Their Air New Zealand return flights to London are being sponsored by Student Flights.
So can Team Freedom Hunters make it to the finish line first?
"Of course we can ... but there are a lot of unknowns, but that is what makes it such an exciting adventure," Ms McNicol said.
The prize for the winning team was yet to be revealed, she said.
Visit Freedom Hunters' team page: www.redbullcanyoumakeit.com.
Each of the 100 teams receives: a welcome kit; a Moto G mobile phone; a sealed envelope with emergency funds (just in case); and a case of 24 cans of Red Bull.
All teams leave at the same time from various starting points on April 4.
Have one week to make it to the finish line in Berlin by 5pm, April 11.