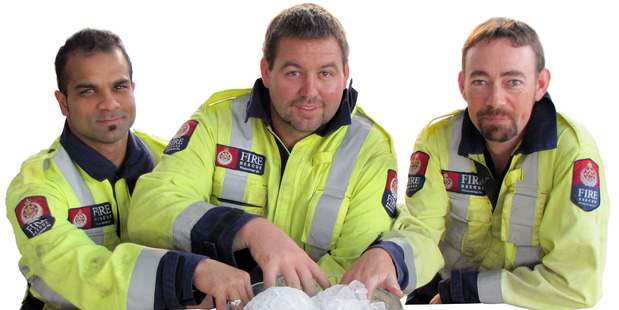 Plunging into a tub of iced water is what a team of firefighters will be doing tomorrow when they take part in the 2014 Heart Stopper Challenge at Mount Maunganui.
The team, "Fire and Ice", will join 33 other teams registered in the Bay of Plenty that had raised more than $11,000 at the time of going to print.
The Heart Stopper Challenge is a fun event supporting the 12 babies born every week in New Zealand with a heart defect. A congenital heart defect is the world's most common birth defect, with 450 open heart surgeries performed on Kiwi kids each year. Every year 40 children lose their battle to survive.
Qualified firefighter Ryan Hope said he read an article about the Heart Stopper Challenge and then station officer Brendan Gibbs brought in a flyer. Inspired to help he involved fellow firefighters Mick Deane-Freeman and Raman Sharma, along with his brother's girlfriend Rebecca.
The team of four are preparing for Saturday's big chill when they plunge into an icy spa pool at 9C and try to sit it out for five minutes.
"As a brigade we have always jumped at the chance to help out groups with their fundraising," Ryan says.
"One group that we love to help is the Variety Bash, especially with their water fight as they drive through town collecting money."
Ryan says the team will be wearing fire gear along with helmets to add colour. Just how long they can stay in the tub will depend on lively conversation and supporters' cheering.
Fire and Ice aims to raise $500 to support heart children. Any donations can be dropped off to Mick at Auto Super Shoppe on Sheffield St or Raman at BP Service Station in Katikati, or online at https://heartstopperbayofplenty2014.everydayhero.com/nz/team-fire-and-ice.
2014 Heart Stopper Challenge, Saturday, March 22, 10am at Coronation Park, Mount Maunganui.