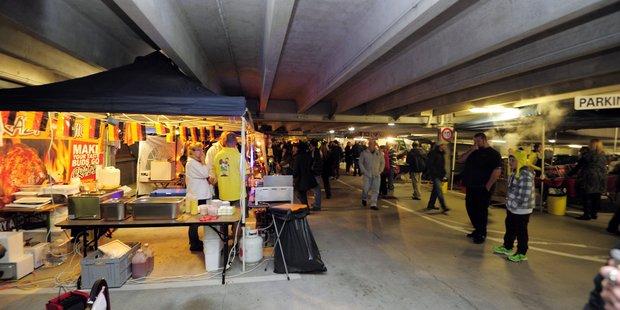 Tauranga City Council is absorbing an outstanding bill of $4000 from a weekly night market after not hearing from its organisers for more than a month since it shut down citing being "upset" with the council.
The Tauranga Kiwi Night Markets opened on August 31, 2013, inside the Elizabeth St car park.
Transportation manager Martin Parkes said the council offered the use of the carpark for a one-month free trial, on the understanding that it would begin to recover council's costs once the trial period was over.
There were 10 night markets in total, including four free as part of the trial period.
"It is $400 per night to rent the carpark, which is cost recovery for electricity and parking building staff costs," Mr Parkes said.
"There seems to have been a misunderstanding with the organisers on the trial period.
As an act of good faith, council has decided not to invoice them for the remaining six markets."
Mr Parkes said the council was committed to encouraging events that brought vibrancy and activity into Tauranga's main business areas, including the city centre.
The costs will be covered by the parking activity section of the council, which is a user-pays system with no rate impact, Mr Parkes said.
The council has not heard from the market's organisers since it shut down in December.
"We are happy to work with the organisers if they would like the market to continue in the future, but this will be at a cost of $400 per market."
Night market organisers could not be reached this week.