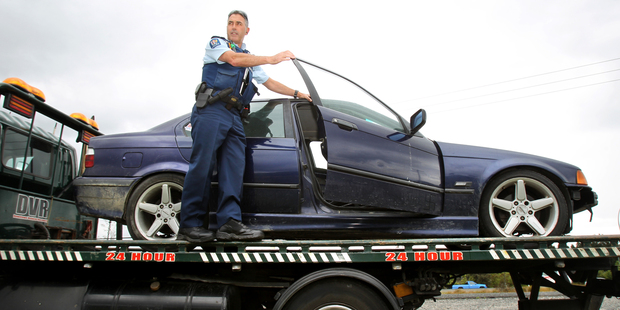 Tauranga has the fifth-highest number of "boy racer" convictions nationwide.
Figures released under the Official Information Act show Tauranga recorded 216 street racing convictions between December 2009 and June 2013. Nine were second strike convictions.
"Boy racer legislation" introduced in 2009 gave courts the power to destroy an offender's car if they ticked up three illegal street racing offences within four years.
Offences include racing and excessive speeding, and "sustained loss of traction", which includes "burnouts" and "drifting".
The first car to be flattened under the boy-racer legislation was at a Lower Hutt scrap-metal yard in June 2012, after its owner was convicted of his fourth driving offence. Two more have been crushed since then - the most recent a 1995 BMW belonging to Tauranga boy racer Braedyn Clothier. The destruction order was made after Clothier was convicted of his third offence for operating a motor vehicle causing sustained loss of traction after being seen doing doughnuts in Cambridge Rd in July.
Western Bay of Plenty road policing manager Senior Sergeant Ian Campion said police still had problems with boy racers. But things had improved markedly, thanks partly to the "three strikes" legislation. "Back in 2005 and 2006 we had major problems, as did a lot of other cities around New Zealand. Police and Tauranga City Council worked particularly hard to intervene," he said.
"We don't make any secret of it here in the Western Bay that police take a very hard line with any boy racer or delinquent driver behaviour."
A 2007 Tauranga City bylaw banning boy racer cars from industrial areas had also played a "huge" role in curbing boy racer activity. "Sustained loss of traction and racing ... end tragically sometimes. Some people think it's a bit of fun, but it's not. It's behaviour that results in injury and worse."
Nationally, Ministry of Justice figures record 5002 street racing convictions, with 10 offenders notching up three or more convictions since the legislation was introduced.
Christchurch took the title of New Zealand's boy racer capital. It recorded 618 street racing convictions since 2009, with the next highest Manukau, followed by North Shore, Hamilton and Tauranga. Of South Island centres, Invercargill recorded the second highest number of offences with 186.
Corrections Minister Anne Tolley said the new laws were proving effective.
"These laws ... gave the courts the power to seize and destroy cars of repeat offenders, allowed councils to outlaw boy racers cruising the streets, and made it easier to impound vehicles caught racing."
Between 2009 and 2012, the number of infringement notices issued for illegal street racing fell 35 per cent, she said. The same period saw a 38 per cent drop in the number of 15-24 year olds killed on our roads.