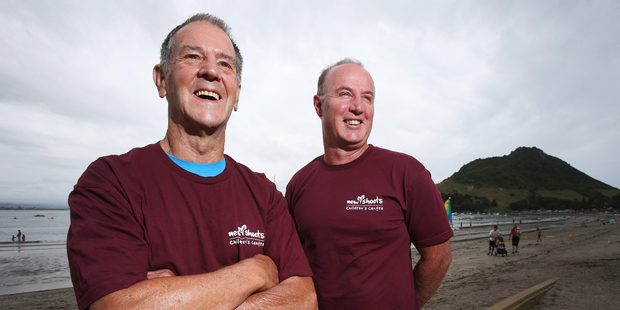 The teams race at the Port of Tauranga Half has grown over the years to be the highlight of the sporting calender for many unassuming part-time athletes.
Corporates, old school mates, church groups, community groups and families are all part of the rank and file that finish hours after the likes of elite athletes Cameron Brown and Jo Lawn.
One family having a crack together for the first time is Paul Garratt, his son-in-law, Murray Pratt, and grandson Daniel Pratt.
Paul will lead off in the swim leg, with Murray taking on the daunting 90km bike leg and 24-year-old Daniel expected to bring the team home in a good time on the run.
At 77, Paul is often the oldest swimmer in the Team Shorebreak Ocean Swim events held off Pilot Bay and is back into swimming after a break of 50 years.
He swam for the New Zealand Surf Lifesaving team that competed in Melbourne at the same time as the Olympic Games were held there in 1956.
"I have swum two or three of the half ironmans with Bay Cardiology but I didn't swim last year so I have been training, getting ready to do it again.
"But I don't think Cameron Brown has anything to worry about."
The idea to put a family team in the 25th Port of Tauranga Half came from Daniel.
"He met us down at Baywave where we train and we were just chatting," Paul said. "He said why don't we put a team in and I thought there is nothing wrong with that. Murray had recently brought a good bike and Daniel is a runner from hockey so we put it together."
Murray runs the New Shoots children's centre in Papamoa. "I live in Papamoa and when I come to Mount Maunganui I cycle there," Murray said.
"I have been doing it for six months and have got into it. I was going to do Taupo but I thought this would be a good start before I get into a longer distance.
"I have cycled the course a number of times now and when they say flat, the wind is always into your face in one stretch so it is tough going one way."