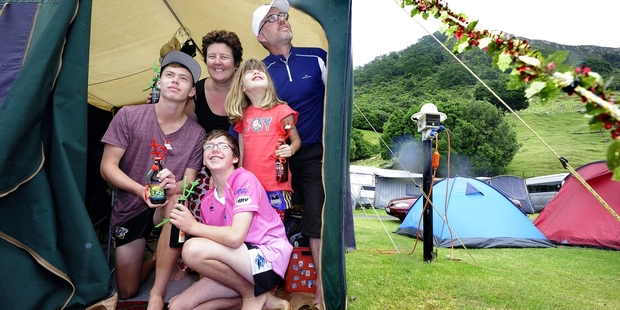 Morning rain failed to dampen the Christmas spirit for the McNally family at Mount Maunganui.
Hamilton's Karen and Andrew McNally and their children Liam, Finn and Katy rugged up inside their tent, adorned with a Christmas wreath, bells, signage and even tinsel wrapped along the tent's cables.
"Usually we come down on Boxing Day but we decided Santa could find us," Mrs McNally said.
The decision to spend Christmas camping at Mount Maunganui Beachside Holiday Park was accompanied with explanations of how Santa was still able to visit.
"We had to have discussions about Santa not having a chimney to climb down but he had a magic key instead."
Along with the Christmas decorations, a Merry Christmas welcome mat was placed at the main entry of the tent.
"You've got to make Christmas special," Mrs McNally said.
"It's such a short window in your children's lives. Our youngest is seven and we are treasuring those last years where Christmas is particularly special."
Christmas decorations also light up the inside of the tent, including a small Christmas tree with Christmas crackers placed underneath.
The family also decorated bottles of lemonade and beer to create Christmas "reinbeers".
"It's only $2 from the $2 Shop for those bits and pieces, and a bit of imagination," Mrs McNally said.
The idea behind tinselling the tent cables came from frustration at tripping over them at night, Mrs McNally said.
"So I thought I'd wrap some tinsel around them, it's worked out quite nice."
The tinsel joins other decorations at the McNally tent on the ocean side of the camping ground.
The McNallys have been coming to Mount Maunganui for the holidays for 13 years and are keen to return for Christmas next year.
Steady rain fell for most of yesterday morning, with 4.4mm falling at 10am. MetService predicts the weather will be cloudy today before rain returns.