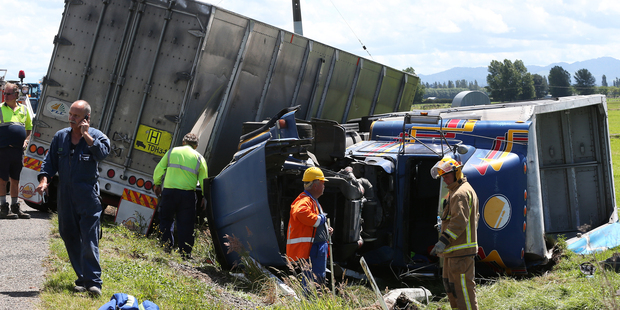 It is a miracle no one was killed in a crash that left a truck on its side in a Pukehina paddock and three people in hospital yesterday, police say.
The incident involved a truck and trailer and two vehicles near the Benner Rd intersection just after 2pm. State Highway 2 was down to one lane for about two hours while a crane crew hauled the truck up to be towed away.
The cause of the crash is still being investigated. Pukehina Volunteer Fire Brigade Chief Fire Officer Errol Watts said, "All three vehicles were travelling towards towards Te Puke ... from the looks of it they just ran up the back of each other but the last car appears to have clipped the truck and helped send it flying into the paddock."
The truck driver, believed to be a Mount Maunganui man was taken to Tauranga Hospital with severe back pain.
Mr Watts said the other two drivers had minor injuries. Both were taken into Tauranga Hospital for observation.
Constable Rowan Scott said, "It is a bit of a miracle no one was killed ... people have to pay extra attention on the roads and make sure they have Christmas with their families, alive and uninjured." Natalie Dixon