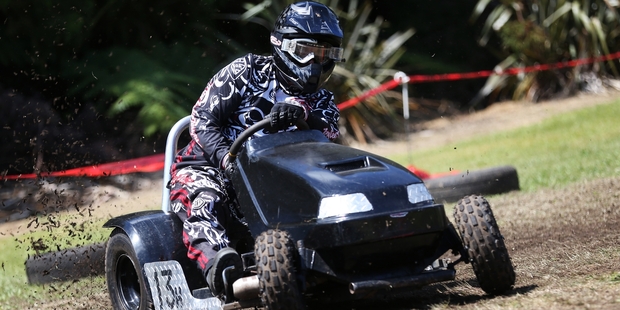 A crash at the 10th annual Omokoroa No. 1 School Ride-on Mower Day saw one person taken to hospital, but still the racing went on.
Raceday organiser Bronwyn Carter said the woman was injured when a mower tipped on top of her about 12.30pm yesterday.
"Two motor mowers came together on the track and the rider fell off. The other machine tipped over on top of her," she told the Bay of Plenty Times.
The woman was still in Tauranga Hospital but was in a comfortable condition and was progressing well late yesterday afternoon, she said.
A St John spokesman said the 58-year-old woman was taken to hospital with moderate injuries.
Racing resumed soon after.
Bay of Plenty Lawn Mower Racing Club secretary Barry Dawe said no one liked to see anybody hurt in a race although it was part of the sport.
"We wouldn't do it if it was safe as houses," he said.
Despite the crash it was an "awesome day" with a good track and good standard of competition, he said.
There were 22 competitors racing across the three classes of mower.
The Omokoroa race was always the biggest event in the country, with competitors coming from all over New Zealand, Mr Dawe said. It was also the national finals.
"It's all about having lots of fun on a shoestring budget. We like to call it grass-roots racing."
Mr Dawe took up the sport about six years ago after seeing mower racing at an A&P show in Rotorua.
"I'd just been given an old lawn mower chassis that someone didn't want and I thought, 'I'll have to give it a go'," he said. "You're getting something that's not supposed to go fast and making it go fast."
Bay of Plenty club president Adam Pendred, owner of lawn mower shop Garden Forest Marine, was one of the first to take up the sport about 10 years ago.
"It's a huge amount of fun. A lot of the fun is doing something that was never meant to be done. A lot of it's building it, making it handle better and go faster," he said.
It was a growing sport and there were now about six female competitors around the country, he said.