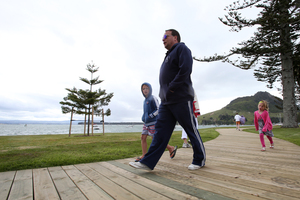 An event to mark the start of the cruise ship season and to celebrate the official opening of the Pilot Bay Boardwalk has been cancelled.
Mainstreet Mount Maunganui and the council were encouraging families to grab some takeaways or pack a picnic and head down to Pilot Bay this evening.
From 5pm to 6.30pm (weather permitting) people could enjoy free entertainment while they dined, then wave off the cruise liner Sea Princess, which would depart from the Port of Tauranga at 7.30pm.

A council spokesman said the Sea Princess cruise ship couldn't come to Tauranga today due to excessively high winds.
The forecast for this afternoon is for strong westerlies, showers and 12C.
"For these reasons the planned entertainment at Pilot Bay for this afternoon has been cancelled."