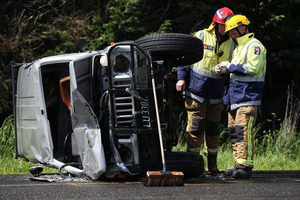 Two women were taken to hospital after a crash in Whakamarama which backed up traffic for about an hour.
Emergency services were called to the crash on State Highway 2 at the intersection of Munro Rd about 2pm yesterday.
Traffic crawled slowly around a silver 4WD which had come to rest on the driver's side doors and a black Corolla with a crushed boot.
Sergeant Nigel Ramsden said the black car had been waiting to turn into Munro Rd but the 4WD, being driven towards Tauranga, had not seen it and crashed into the back, shunting it forward about 20m.
The woman in the 4WD was trapped and firefighters had to free her. Papamoa nurse Nikki Cave was on her way home when she came across the crash and stopped to help.
An emergency department nurse was already helping the driver of the 4WD so she helped the other driver.
"She was in shock. She was dry retching and shaking but she stayed conscious the whole time. She was worried about her dog," she said. "I basically sat behind her and made sure she didn't move."
The dog, also in the car, was uninjured but both drivers sustained minor injuries and were taken to Tauranga Hospital. The road was cleared and reopened about 3pm.Amy McGillivray