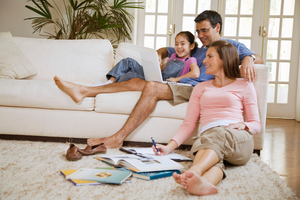 IT'S great to see Kiwis are finally talking about the lack of work-life balance becoming increasingly normal in today's society.
The 40-hour week has slowly been replaced by the 50 to 60-hour version and no one bats an eyelid about finishing at 6pm instead of 5pm, or popping into the office to finish something over the weekend.
But most would agree the fact it's normal, doesn't mean it's right, or productive.
Congrats to the marketing genius at Hyundai who came up with the idea of giving away family time as a prize. They were clearly tuned into the fact it's the most valued, yet lacking, thing in a lot of Kiwis lives.
While necessary, no amount of money can replace time spent with family and children - which is all very well but children still have to eat, be clothed, have a roof over their heads and power ... phone ... internet ... toys.
Growing up, my dad finished work at five and mum was at home. Surviving on one income was a realistic possibility, while still maintaining a good standard of living.
It was considered normal to finish work at 5pm - especially on a Friday - and not see your workmates again until 8.30am or 9am on Monday. Fast forward 25 years and New Zealand has a reputation for working long hours - in fact we value it.
Someone who works late is seen as dedicated and often rewarded for their "going above and beyond" attitude.
In reality two of the most productive journalists I have worked with were never at the office beyond finishing time - besides the rare instance of breaking news or a late phone call.
They were friendly, polite and well liked at work but always kept the objective in their sights - to finish on time and get home to their life.
In terms of real rewards in the workplace - promotions and more money - in my experience the most productive, accurate and efficient will always win out over the ones who turns out the lights.
They are also much fresher, and often less resentful, when they arrive at work each day.
Couples counsellor Mary Hodson told the Bay of Plenty Times Weekend she is speaking to an increasing number of families suffering from work pressure.
It's not surprising that the extra pressure at work is creeping into people's home lives.
It's sad that workers are turning to professional help to deal with the symptoms of bad work-life balance, rather than restoring the balance itself.
But as Mrs Hodson points out, work is far from the only thing to blame for eating into family and couple time.
Nothing is more frustrating than talking to someone who is engrossed in the television, an iPad or texting a friend, and removing this kind of "noise" from home time is as important as reducing work pressure.
She recommends sitting down and talking to your partner for 45 minutes a day without the interruption of a cellphone, computer or television. It sounds simple but is so rarely achieved in modern households.
I've observed enough people who have achieved work-life balance to know the key seems to be acknowledging its importance.
They have drawn strong lines in the sand, not letting work seep - via computer and smartphone - into their precious time.
And most importantly they see family time as something to be valued both by themselves and others.