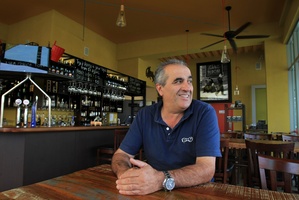 Western Bay retailers are celebrating a $14 million boost in sales - but a veteran restaurateur says the past two months have been the worst for the local hospitality sector in 17 years.
Paymark yesterday released figures showing spending in the Bay increased by 5.9 per cent from August 2012.
In August last year $231.6 million was spent in the Bay of Plenty, this year saw $245.2 million spent in the Bay - a $13.6 million increase.
Tauranga restaurateur Luigi Barattieri said people were still going out but had changed what they were now spending money on.
People had stopped dining out at restaurants, largely because they had become food critics rather than diners enjoying their meals, he said.
"Cafes are getting away with selling $10 meals for $16 but restaurants struggle to sell a $45 meal for $30, he said.
"They will spend money on three beers but not question the price but at a restaurant they won't buy an eye fillet steak for more than $20."
Mr Barattieri owns restaurants Spuntino as well as Volare plus the newly opened tapas bar Comida. The latter was doing quite well compared to the other two, he said.
Despite this, July and August had been "the worst winter".
However, Hospitality New Zealand Waikato/Bay of Plenty regional manager Alan Sciascia said the warmer winter would have had a positive impact on spending. He said any sign of improvement was good news for businesses.
Tauranga Chamber of Commerce chief executive Max Mason said he was delighted the figures showed a growth in retail spending in the Bay of Plenty.
"In terms of value we are higher than the national average, which will offer some much needed optimism for our long suffering retailers," he said.
"These figures support business and consumer confidence surveys, and shows our regional economy is on the up."
Tauranga Budget Advice manager Diane Bruin said despite the increased confidence in business, there was also an increase in people seeking help with their finances.
She was not sure if the increase was because of increased awareness about the budgeting service or if more people were needing advice in regards to their spending.
Paymark, which processes about 75 per cent of all electronic transactions in the country, said spending through its network was 7.6 per cent higher nationally in August than a year ago and 1 per cent higher than July. Total spending amounted to $4.07 billion, up from $3.78 billion in August 2012.
Excluding fuel, which tends to be more volatile, spending was up 6.8 per cent from last year and 1.1 per cent from July.