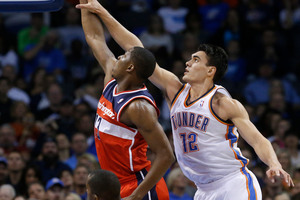 Steven Adams was largely kept quiet as Oklahoma City continued their fine start to the NBA season with a win over Washington today.
The Kiwi centre played 20 minutes - matching his season average - as the Thunder eked out a 106-105 overtime victory at the Chesapeake Energy Arena in Oklahoma City.
Two days after recording his first career double-double, Adams was much more subdued on the stat sheet, scoring one point, pulling in two rebounds and blocking two shots.
But, as Adams said after his breakout performance against Detroit, the only number that matters to him is the one in the win column. The Thunder managed to add another victory to their tally, moving their record to 5-1, after overcoming an 10-point deficit with three minutes remaining in the fourth quarter.
Oklahoma City then outscored the Wizards 10-9 in overtime, with Kevin Durant leading the way with 33 points.
Adams again played more minutes than starting centre Kendrick Perkins (one point in 19 minutes), and both big men remained in the bench in overtime.
The 20-year-old's next chance to impress will come on Thursday afternoon (NZT) when the Thunder travel to Los Angeles to face the Clippers.
- APNZ