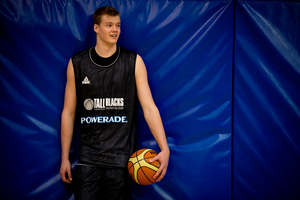 Life has changed considerably in the last week for young New Zealand basketballer Jack Salt, and he got a good illustration of that with a brush with Taylor Swift.
Salt returned yesterday from a whirlwind week in the US when he signed with the University of Virginia and also met a handful of players and staff. On top of that, his first meeting with the coach was at a Taylor Swift concert.
"The protocols are very strict about who you see and when so I had to wait until everything had been cleared before I could see coach [Tony] Bennett," Salt said. "Swift was actually playing at the John Paul Jones Arena while I was meeting with coach Bennett in another part of the building, so that was pretty funny."
The John Paul Jones Arena is where the Cavaliers play and train and seats 14,500.
As well as the impressive basketball facilities, Salt said the academic support networks in place at UVA are top-notch.
Each scholarship athlete has a tutor in place to provide help on tap.
"It's nothing like New Zealand over there," he said. "There's so much money. The grounds are beautiful.
"I'm really lucky because the chances are I'll get to play against some really top guys which I'm looking forward to. It's going to be tough, no doubt."
The talented centre, who is 2.09m and still growing, said he would be available to play for the Tall Blacks in the future - that was something he and Bennett saw eye to eye on.
"The Cavs wouldn't oppose that," Salt said.
Salt soon made his way home from Virginia after signing on and has little time to contemplate his big move. Salt has an important exam towards his scholarship today, so the 17-year-old hit the books as soon as he arrived home.