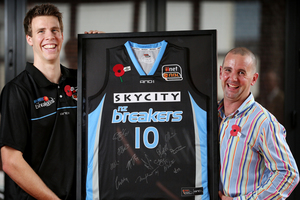 A Breakers singlet featuring a poppy embroidered by designer Trelise Cooper has raised $2850 for the Auckland Returned and Services Association.
Jeremy Howard, a landscaper and builder, and his retired father, Tony, won a Trade Me auction at the weekend for the signed shirt.
Jeremy Howard was at the Breakers' first finals series win over the Perth Wildcats at Auckland's Vector Arena the weekend before last and knew it "wasn't going to be a problem" for them to win again in Perth last Friday and seal their third Australian NBL crown.
He and his father jumped at the chance for a Breakers top.
"First of all, it's for the RSA, so I know that the money is going to a good cause. And also, being a Breakers fan, I know it's just going to be a singlet that is going to be priceless in the years to come, because that team will never be the same."
Star player Tom Abercrombie, who donated the shirt, said the bids exceeded everyone's expectations.
One of his grandfathers was a prisoner of war and the other fought in Korea, so he was glad his shirt would help other veterans.
Veterans and serving members of the armed forces collected $8300 for the RSA at the game at Vector Arena.
Warriors and Breakers players will collect for Poppy Day at Auckland's SkyCity from 3pm-5pm on Friday.