Coach says they can't be peaking for the next eight weeks and then go into the playoffs.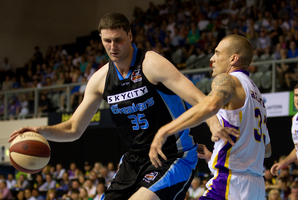 The Breakers have mapped out the next seven weeks in the hope of peaking once the ANBL finals roll around.
Some of it will feel like pre-season training, with an accent on improved fitness, but most will be around managing players to ensure they stay fresh mentally.
Although the North Shore club are on an unprecedented 11-game winning streak, they don't want to lose sight of the bigger picture which is securing a third-straight title. They are in great shape, having won 19 of their 22 games this season to hold an advantage over Perth (15-5), and they are aiming to go into April's playoffs as the No 1-ranked side and with home court advantage.
Coach Andrej Lemanis recently met his staff to go through what they needed to do to be in peak shape for the playoffs and the result will be modifications to their training regime.
"We have mapped out what the next seven weeks look like - what weeks need to be heavy and what weeks need to be light - so we are peaking at the right time," Lemanis said.
"That's what it's all about.
"We can't be peaking for the next eight weeks and then go into the playoffs. It's about picking the weeks when we need to lighten up a bit and let the mind and body refresh and picking those weeks when we need to continue to build on our base so we have enough stamina and fitness about us going into those playoffs."
Will Hudson's participation is up in the air with news he faces at least four weeks on the sideline with a knee injury. The American clashed knees with a Sydney opponent early in their match on Saturday night, restricting his game time, and will learn more about his prognosis when he meets the surgeon later today.
He will miss Friday night's game against Wollongong at the North Shore Events Centre and early indications suggest he will be out for at least four weeks. The Breakers have six regular season games remaining and will hope Hudson recovers in time for the playoffs.
Centre Alex Pledger and forwards Mika Vukona and Dillon Boucher are likely to see more game time but Hudson has made a good contribution off the bench throughout the season.
The Breakers have had a reasonably good run with injuries so far this season and the next few weeks will be just as much about physical fitness as mental to ensure it stays that way.
"It's about staying focused on the day-to-day," Lemanis said. "It's about keeping that edge, particularly that mental edge going into games and I thought we were a little down going into that Sydney game.
"That's the challenge for us, going into games excited and with that competitive mental spirit to play well. Everyone we are playing are still alive in the playoffs so they will be tough. I thought it was good for us to find a way through that game on Saturday. We need games like that heading into the playoffs.
"The challenge for us ... is being smart with the maintenance of everyone. It's important we don't run tired bodies into the ground."
Hawks next up
What: Breakers v Wollongong
Where and when: North Shore Events Centre, 7.30pm Friday.
- APNZ