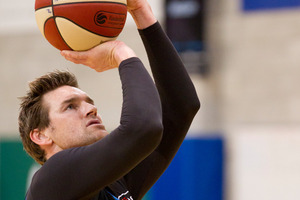 Having won three in a row over the traditionally tricky New Year period, the Breakers are wary of letting their standards slip as they prepare for Townsville tonight.
As five of the side recover from illness following last Saturday's 78-76 victory over the Wollongong Hawks, losing to the Crocs - sixth on the table - would be hard to stomach. The Crocs have lost eight of their past nine games against the Breakers.
Dillon Boucher, one who was laid low by the bug, is aware that the Crocs, who have picked up five consecutive wins after a shocking start to the season in which they lost their first 10 matches, could be the toughest test yet as the table-topping Breakers look to seal their best series of results for this time of the year.
Corey Webster was the worst affected by the illness, which also hit CJ Bruton, Alex Pledger and Mika Vukona, but all have recovered ahead of the match at the Townsville Entertainment Centre.
"It was a 24-hour thing," Boucher said. "It started after the game in Wollongong. A couple of guys got it in the middle of the night and it went through a few in the team. Corey Webster was hit hardest by it but he's showed up this morning looking like a box of birds."
Boucher believes the Breakers will need to be on top of their game for their trip to North Queensland, although the professionalism which has helped them to away successes over Adelaide (71-66), Cairns (66-61) and Wollongong should give them a head start.
"This is the time of year when you can fall into holiday mode," Boucher said. "But we've specifically looked at that and prepared for it. We only had Christmas Day off and we didn't really have a chance to get into holiday mode.
"Townsville's record doesn't really do them justice. They've won the last four or five games in a row and haven't lost once since [forward] Luke Nevill has come on board. They're probably feeling pretty good about things now."
They're not the only ones. The Breakers, who have a 12-3 win-loss record and sit above the Perth Wildcats (10-4), are finding ways to win matches they probably would have lost in the past.
One of their biggest obstacles will be Nevill, a former Wildcat, who has said he will look to mark fellow big man Pledger. He knows, however, that the Breakers have plenty of other options, including the in-form Cedric Jackson.
"We don't want to let him [Jackson] get off and get 10 or 11 assists because that's what he does - he's leading the league in assists," Nevill said.
"If we can get it out of his hands and make other guys make plays, I think that will be better for us."
- APNZ