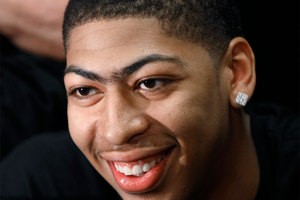 American basketball star Anthony Davis, who will likely be taken as the number one pick in Friday's (NZT) NBA draft has trademarked his unibrow.
The six-foot-ten-inch centre is known for his connected eyebrows and trademarked the phrases "Fear the Brow" and "Raise the Brow" earlier this month.
Davis led Kentucky to the NCAA championship this year - taking home every major player of the year award in his first and only college season - and is looking to cash in on his famous look when he turns pro following the draft.
"I don't want anyone to try to grow a unibrow because of me and then try to make money off of it," Davis told CNBC. "Me and my family decided to trademark it because it's very unique."
Davis said that people frequently tell him to cut it, but Davis said he won't because "everyone's talking about it."
Unauthorised merchandise featuring the heavy set follicles grew at a rapid pace as Kentucky stormed their way through college basketball this season. The school worked to clip the most blatant offenders but were unable to fully remove them from the market.
With officially licensed goods, the bootleg market should be trimmed, allowing Davis to grow what will be a substantial NBA rookie contract and a thick abundance of promotional and sponsorship opportunities.
- Herald Online