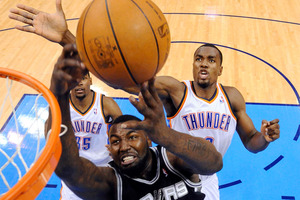 Kevin Durant scored half of his 36 points in the fourth quarter today as the Oklahoma City Thunder beat the San Antonio Spurs 109-103 to tie the NBA Western Conference Finals at two games apiece.
Defensive stalwart Serge Ibaka contributed some unexpected attack, scoring 26 points on perfect 11-for-11 shooting for the Thunder, who improved to 7-0 at home this post-season.
San Antonio, who won the first two matches at home to stretch their winning streak to 20 straight before losing game three on Friday (NZT), will try to reassert themselves when they host game five on Tuesday (NZT).
The winners of the best-of-seven series advance to the NBA Finals, where they will play Miami or Boston for the championship.
Durant made seven of his nine attempts from the floor in the final quarter. In one five-minute span, he scored all 16 of Oklahoma City's points - helping them hold off a tenacious Spurs team that trailed by as many as 15 points but had closed the gap to four midway through the fourth.
Kendrick Perkins added 15 points with nine rebounds for Oklahoma City, helping make up for a lacklustre night for Russell Westbrook, who scored just seven points on 2-for-10 shooting.
"He opened up the defence by making passes. That's what our guys did tonight, finding the bigs for open shots," Thunder coach Scott Brooks said of Durant. "Serge and Perk had an offensive night that we're certainly all happy with."
Tim Duncan scored 21 points with eight rebounds for San Antonio.
Kawhi Leonard added 17 points, Manu Ginobili scored 13 and Tony Parker and Boris Diaw chipped in 12 points each.
-AAP