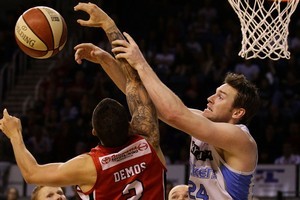 It's the ultimate test of their 'one game at a time' mentality, but Dillon Boucher insists he's firmly focused on Sydney despite the looming threat of Perth.
Boucher's league-leading Breakers face off with seventh-placed Sydney at Vector Arena tonight, a week before turning their attentions to the only team capable of matching the New Zealanders in the win column - the Perth Wildcats.
The two teams, pre-season favourites, have shadowed each other throughout the first 18 games of the Australian NBL and, with 10 games left, are neck-and-neck in the standings with 13-5 records.
With many pundits already pencilling the sides into April's finals series it would be easy to cast an anticipatory glance toward next Thursday's showdown at the NSEC. But Boucher is adamant he and his teammates are doing no such thing, despite the probing of the media and public alike.
"We actually haven't even talked about Perth,'' he said. "The media, I know, has talked about it and everyone you seem to run into on the street seems to want to talk about Perth but, to be honest, we're focused solely on Sydney.''
Sydney do warrant some focus - they fell within a couple of missed free-throws of beating the very same Perth last week - but only the most myopic of athletes could avoid noticing their biggest rivals laying around the corner.
"I don't know if we're ignoring [Perth] but we're postponing them,'' Boucher said. "We're postponing those emotions for that game. It's going to be a big game but we can't look ahead to that game because we've got a job to do first. If we don't take care of that job it just becomes harder against Perth.''
Thankfully for the Breakers, their is plenty about tonight's game to draw their focus. If it's hard to find motivation for an 8-11 opposition that you've beaten on five straight occasions, there's the small matter of a record basketball crowd in New Zealand to arouse the players' attention.
The Breakers broke that record in their first outing at the centre city venue and, with more than 7300 tickets already sold, that mark will again tumble tonight.
"It means a lot - we've spent a lot of years being a very minority sport in this country,'' Boucher said. "It shows by the fans that are turning out week-in, week-out that basketball is at the forefront of a lot of fans' minds now and they're enjoying it. We love this game and we're seeing other people fall in love with it more and more each week.''
The infatuation of new followers can only be of benefit to the North Shore club and Boucher described his team, winners of their last three, as almost unstoppable when the home fans gets going.
"A home crowd is great and they do add another five to 10 points to every game. We definitely feel like, if we play the way we know we can, then we can be unbeatable. But we also know if we come in and put a sub-par performance on court then we can be beaten on any night.''
That includes tonight, despite the Kings' unflattering record. Boucher said Sydney has been unlucky losers in recent weeks, unable to finish games and instead grasping defeat from the jaws of victory.
"Sydney are a tough team in their own right and they haven't had a lot of results this season, but we know if we don't turn up to play then they'll roll us on our home court. So it's very important that we come focused on this game only.''
- APNZ