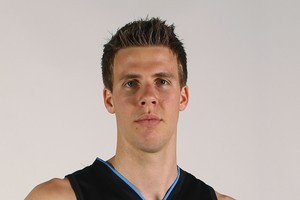 It seems a little of the rage that sent the Melbourne Tigers spinning further into freefall this week rubbed off on the Breakers, with star swingman Thomas Abercrombie and veteran forward Dillon Boucher engaging in a heated squabble yesterday at training.
Abercrombie appeared to take exception to Boucher failing to call a foul on himself during scrimmage, sparking a confrontation that teammates were forced to defuse.
"Just another day at training, really," was Abercrombie's take on it.
"These things happen. It is always good to get the intensity up a little bit. Sometimes it takes a little thing like that to kickstart training and get everyone into it. It is definitely a good sign. It means we are all focused and being really competitive."
Boucher also dismissed the incident as a minor flare-up, and a good indicator the team was in the right mood ahead of tonight's showdown with a Tigers team reeling from the shock sacking of import point guard Ayinde Ubaka.
"We talked about our two [recent] losses and how we weren't that aggressive, how we wanted to bring some aggressiveness in training, and sometimes things like that happen," Boucher said.
There hasn't been much in the way of jollity in Melbourne following Ubaka's sensational sacking by owner Seamus McPeake in the aftermath of Sunday's loss to Gold Coast.
Yesterday Ubaka confirmed McPeake had sacked him on the spot while coach Trevor Gleeson was attending a press conference.
"Seamus came in, mad, cussing everybody out, pointing players out - one of the players was me," Ubaka said.
"He said it was an embarrassment.
"He told me to leave and go and find another job, and I said 'alright I will'."
"It was very unprofessional but he's the boss and he wears the big pants."
Having jettisoned veteran guard Daryl Corletto to make way for Patrick Mills only for Mills to leave for a more lucrative contract in China, the Tigers have been a volatile entity this season. They bring a three-match losing streak to Auckland, and have lost the last two encounters between the sides after taking the season-opener.
Daniel Dillon is expected to replace Ubaka as the starting point guard, however the Breakers admit they don't quite know what to expect.
"It could go two ways for them," Boucher said. "I understand they have all been put on notice so they could come out fired up because they are all playing for jobs. Or they could come out trying too hard and all the wheels completely fall off. We're hoping the second one, but it is a dangerous game."
Former Breakers guard Kevin Braswell was to train the Tigers yesterday. Having guided the Breakers to the title last season, Braswell is without an ANBL job after snapping an achilles tendon playing for Southland in the NZNBL.
"I hope for Kevin's sake he gets an opportunity and proves to everyone that he has still got it," Boucher said. "I know he has worked hard since the injury and as friends we wish him the best of luck."