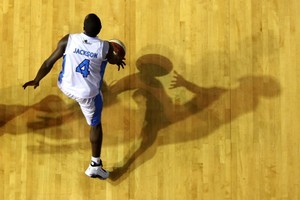 Had he not tweaked his ankle on Sunday afternoon in Adelaide, Cedric Jackson may have created a piece of Breakers history.
With the 36ers wilting and the Breakers storming home, Jackson was bearing down on a triple double - the feat of posting double figure tallies in three of basketball's five major statistical categories.
It would have been the first time any Breaker had done so.
But Jackson felt a twinge in his ankle and was removed from the game having posted 11 points, nine assists and eight rebounds.
With the Breakers now in their ninth season, the triple double barrier remains unbroken.
Its end, though, appears nigh. Jackson also came within a whisker of a triple double when he notched 11 points, 12 rebounds and eight assists against Townsville earlier in the season.
It appears a matter of time until the rangy point guard goes a rebound and assist or two better.
"There is no doubt he can do it," assistant coach Dean Vickerman said. "We pulled him out when he hurt himself a bit in the Adelaide game, and he had a pass to [Alex] Pledger that was a gut lay-up that he missed down the stretch. And then one more rebound has to fall into his hands."
A point guard who can rebound, Jackson has the ideal game to achieve the milestone, Vickerman said.
"I can't think of too many power forwards [doing it]. Guys with ball in hand, big point guards, are the most likely guys to get a triple double in our league."
Triple doubles aren't rare as such. NBA player Jason Kidd has 107 and counting, while all-time leader Oscar "The Big O" Robertson notched 181, once averaging a triple double over an entire season.
But that is the world of the NBA. In the Australian NBL triple doubles are becoming increasingly rare. Of the 27 in the past decade, just seven have come in the past five years, and just one - in January by Tigers point guard Corey "Homicide" Williams - has occurred since the league switched from 12- to 10-minute quarters.
Those who have achieved the feat Downunder in recent times include Andrew Gaze (twice), Glen Saville (twice) and Shawn Redhage. The most prominent name on the list is Rashad Tucker, who notched four triple doubles in the space of 18 days for Perth in February 2004, only to be sacked for not being a team player a year later.
Given that Tucker's triple doubles tended to include up to 15 assists, that's a curious set of circumstances indeed.
With his contributions these days of a less tangible nature, Dillon Boucher isn't necessarily the first name to spring to mind when it comes to potential Breakers' triple doubles. However, Boucher has achieved the feat several times in the New Zealand league and gone close on several occasions in the ANBL.
"In my early Breaker days I had a couple of games where I was a couple of rebounds or an assist short," Boucher said. "I've even been just a couple of steals short.
"As a player it is one of those things you always aim for but it is so hard that a lot of people go through their whole career without getting one."
It does, indeed, take a special kind of player. With blocks often going unrecorded, guards who share the ball but can also score and rebound tend to be the only players capable of posting the numbers in three categories. Jackson is that type of player.
"Cedric makes it look so easy but it is actually a bloody hard thing to do," Boucher said. "Those that do it are pretty much all-round players and Cedric is definitely that for us. For a guy who is only six-two he rebounds as good as anybody on the team, he is so good at getting his teammates involved and he can get himself going by penetrating and scoring at any time.
"Before the season is out you'll see him having a triple double for sure."
To do it, Jackson will need the help of his teammates. Last Sunday in Adelaide has already gone down as a chance that got away.
"I know Tom [Abercrombie] and Leon [Henry] both apologised to him and said 'you'd have had 15 or 20 assists if we've made our shots'," Boucher said. "You can only get assists if guys finish it at the end of the play so Cedric getting a triple double relies on his teammates heavily."
Having achieved the feat in college and in the NBA D-League, Jackson knows a triple double is well within his reach.
The quietly spoken American shares his teammates' and coaches' belief he can become the first player to do it in a Breakers singlet.
"Yeah, I know I can do it," he said. "Hopefully I do make some history and it happens this year."
For now, Jackson remains just another nearly man.
"It's a nice little challenge, but I'd rather get that win, and it was nice to get the win against Adelaide."
ANBL triple doubles during the last decade
Jan 2, 2011: Corey Williams (Melbourne) v Adelaide 12 pts, 10 reb, 11 ast
Feb 13, 2008: Dontaye Draper (Sydney Kings) v Breakers 14 pts, 10 reb, 10 ast
Feb 2, 2008: Julius Hodge (Adelaide) v Brisbane 25 pts, 12 reb,13 ast
Feb 14, 2007: EJ Rowland (Sydney) v Singapore 13 pts, 12 reb, 10 ast
Jan 17, 2007: Glen Saville (Wollongong) v Townsville 20 pts, 13 reb, 10 ast
Dec 21, 2006: John Rillie (Townsville) v Breakers 18 pts, 10 reb, 11 ast
Nov 5, 2006: Shawn Redhage (Perth) v West Sydney 30 pts, 11 reb, 15 ast
Dec 22, 2004: Darnell Mee (Wollongong) v Adelaide 13 pts, 10 reb, 12 ast
Mar 15, 2004: Sam Mackinnon (West Sydney) v Townsville 13 pts, 10 reb, 10 ast
Feb 29, 2004: Rashad Tucker (Perth) v Victoria 14pts, 15 reb, 11 ast
Feb 23, 2004: Rashad Tucker (Perth) v Hunter 19 pts, 15 reb, 15 ast
Feb 18, 2004: Rashad Tucker (Perth) v Brisbane 22 pts, 11 rebs, 10 ast
Feb 11, 2004: Rashad Tucker (Perth) v Townsville 13 pts, 14 reb, 14 ast
Feb 17, 2004: Darnell Mee (Wollongong) v Townsville 20 pts, 13 reb, 11 ast
Dec 6, 2003: Glen Saville (Wollongong) v Sydney 11 pts, 16 reb, 10 ast
Nov 29, 2003: Rashad Tucker (Perth) v Adelaide 22 pts, 11 reb, 10 ast
Nov 26, 2003: Rashad Tucker (Perth) v West Syd 20 pts, 13reb, 10 ast
Nov 26, 2003: Sam Mackinnon (West Sydney) v Perth 21 pts, 12 reb, 10 ast
Apr 3, 2003: Ricky Grace (Perth) v Sydney 15 pts, 10 reb, 10 ast
Feb 14, 2003: Andrew Gaze (Melbourne) v Victoria 20pts, 11 reb, 10 ast
Jan 18, 2003: Chris Williams (Sydney) v West Sydney 34 pts, 15 reb, 11 ast
Dec 31, 2001: Rob Rose (Townsville) v Wollongong 23 pts, 12 reb, 10 ast
Nov 23, 2001: Derek Rucker (West Sydney) v Cairns 22 pts, 10 reb, 13 ast
Nov 2, 2001: Wayne Turner (Townsville) v Adelaide 14 pts, 10 reb, 12 ast
Oct 27, 2001: Glen Saville (Wollongong) v Adelaide 13 pts, 16 reb, 10 ast
Oct 27, 2001: Andrew Gaze (Melbourne) v Townsville 33 pts, 12 reb, 10 ast
Oct 21, 2001: John Rillie (West Sydney) v Melbourne 28 pts, 11 reb, 11 ast