Address:
210 Ponsonby Rd, Ponsonby
Phone:
(09) 361 2666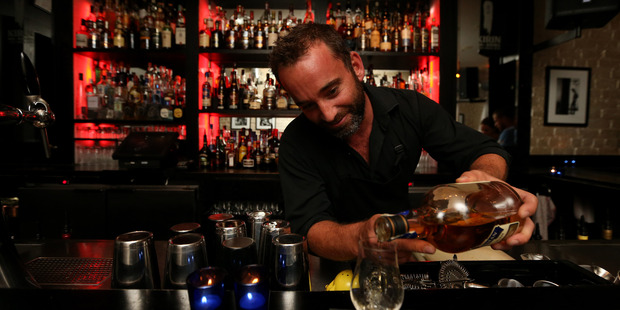 The Whiskey: An emotional rescue
The Whiskey is dead, long live the Whiskey. The sometimes controversial bar on Ponsonby Rd went into liquidation a few weeks ago, but has been rescued by the return of a Ponsonby favourite, Phil Mead, who until recently was the affable host of Julep.
Julep's old site is a fenced-in building site, but Mead has managed to accomplish the greatest comeback since Lazarus - resurrecting The Whiskey. It's a dark-spirits-and-rock-music kind of bar and it always has been, but the changes since it reopened are wonderful.
For a start, the staff are fantastic - mostly because it's just Mead, cracking out great cocktails, cracking wise and cracking himself up with his distinctive sense of humour.
The interior is much the same - for now - dark and dusky out front and the Whiskey Room still has the most offensively awful wallpaper, but things are changing for the better. It still sports wonderful pictures of rock stars and the music still echoes the glory days of rock'n'roll, but the main changes are behind the bar.
The spirit selection is outstanding, as it always was at Julep, and the cocktails are sublime.
Food comes from the nearby Bistro 222, one of my favourite grazing spots in Auckland, and it's simple-but-lovely fare at an affordable price.
Beer-wise, things are a bit weird. Becks is on tap and a selection of Lion-related beers are in the fridge, including the excellent Emersons range.
The wine list is well-considered and the service beyond good, as you'd expect from a man whose first goal is to get the simple things right and look after the little things.
I don't often get overexcited about bars in Auckland, still less Ponsonby, but this will be a classic by the time it's finished. Take my word, in three months', this will be the most enjoyable, laid-back and excellent bar you could possibly imagine and that deserves more than a mere "top marks" review. I know it's mathematically impossible, but - in true Spinal Tap style - this turns 10 points right up to 11; check the overall score - it's really that good.

Scores
Service: 5
Food: 5
Drink: 5
Atmosphere: 5
Overall: 6
The Whiskey is open seven days 5pm-late.