Peter Chapman discovers the island paradises of the southern reef.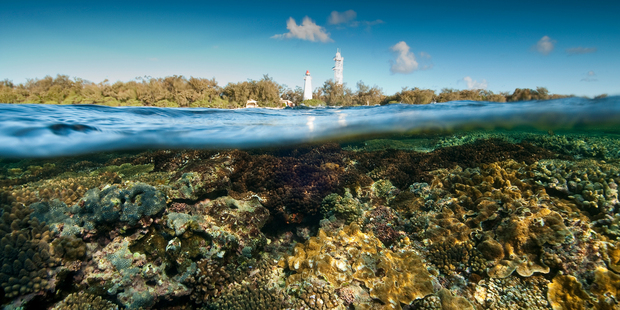 Where is this place? The magic of the Great Barrier Reef reaches down the Queensland coast to Lady Elliot Island, which can be reached by light plane from Hervey Bay. Lady Elliot is the southernmost coral cay of the reef and offers up superb diving just metres offshore. The southern extremities of the reef also encompass popular islands such as Heron and Great Keppel.
What's nearby? Hervey Bay, on the Fraser Coast, is a laid-back coastal town with fabulous beaches. It is well-serviced by air, rail and road travel and is the jumping off point to Lady Elliot. Bundaberg, the home of Bundaberg Rum, is also located along this strip.
How do I get there? Hervey Bay is four hours' north of Brisbane, and Bundaberg an hour's drive further up the Bruce Highway. Gladstone is about six hours' drive from Brisbane.
The region is well-serviced by Qantaslink and Virgin Australia flights, Queensland Rail and the Greyhound bus services. To get to Heron Island you catch a boat from Gladstone. Great Keppel is also reached by boat, 30 minutes from Yeppoon.
Got a spare afternoon? On Lady Elliot, catch a lift on a beach buggy to the lookout at sunset. A new seaplane transfer service has been introduced at Heron Island providing guests with a bird's eye view of sharks, turtles and whales in the turquoise reef.
Staying a while? Lady Elliot Island Eco Resort is its only accommodation. There are 109 rooms at Heron Island with all classes of accommodation. Great Keppel has a more laid-back style and is ideal for camping, but there are cabins too. Oaks Apartments has just opened a new complex at Gladstone with a great restaurant.
Famous locals: The Mon Repos turtles are a must see if you are visiting Bundaberg from November to March. Guided night time tours will delight the entire family.
What do the locals get up to around here? The fishing is fantastic all year round in these waters. It's also a nature lover's paradise - perfect for bird watching and snorkelling, and the diving is superb.
Best spot to get an icecream? The Beachfront Cafe on Lady Elliot Island.
What's the best local produce? Bundaberg strawberries and Hervey Bay scallops.
It's time for lunch. Where should we eat? Ribs and Rumps at the Oaks Grand in Gladstone and Indulge in Bundaberg.
Best picnic spot? The entire coastline offers great free picnic spots with gas-fired barbecues, shelters, tables and benches.
Looking for something special for dinner? Try Rocksalt Bar and Restaurant in Gladstone.
Where to hang out when the sun goes down: Head to the lighthouse on Lady Elliot Island.
Best shop? The resorts on both Heron and Lady Elliot islands or head to the Bundaberg Rum distillery souvenirs shop.
Fancy a bit of culture? On Lady Elliot, visit the Reef Education Centre or head out on a Glass Bottom Boat Tour at night time and see the coral polyps wake under UV light.
Feeling romantic? Here's the spot to go: Try the lagoon beach on Lady Elliot.
Best spot to swim on the beach: Grab a mask and snorkel, walk off the island beaches and you are viewing the Great Barrier Reef.
Best adventure: There are lots of great dive spots close by the islands; at the Heron Bommie (a shallow section of reef) you are guaranteed to be surrounded by fish of all varieties and sizes.
When Kiwis visit, they love: The people and the untamed wilderness.
Best websites: ladyelliot.com.au, heronisland.com, greatkeppel.com.au, nprsr.qld.gov.au/parks/mon-repos.
CHECKLIST
Getting there: Air New Zealand, Jetstar, Emirates and Qantas all fly daily from Auckland to Brisbane.