Blainey Woodham offers local insight into the charms of the southern Gold Coast.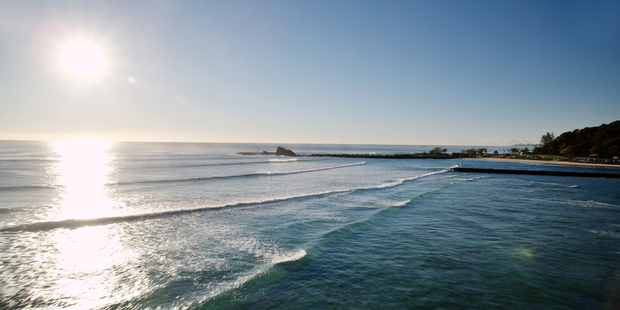 If you want to experience the laid back lifestyle that made Australia's Gold Coast famous, don't bother with the tourist packed, high-rise heavy end of the coast.
Instead follow the locals to the charming southern side of town.
Here, between Coolangatta and Currumbin, you'll find amazing surf, tasty food and plenty to do.
Origin of name: Currumbin is from an Aboriginal word meaning "high up" or "place where high trees grow" or "kangaroo". In 1840 surveyor Robert Dixon Robert Dixon named it Anson Creek but surveyor-General Thomas Mitchell renamed it Currumbin. Coolangatta was named in 1846 after the schooner Coolangatta was wrecked there.
Population: Estimated at 10,000 (the Gold Coast as a whole is home to 600,000).
Where it is? The Currumbin to Coolangatta stretch is 88km south of Brisbane. It's a one-hour flight - or 820km - from Sydney.
Famous locals: World surfing champions Mick Fanning, Stephanie Gilmore, Joel Parkinson and Rabbit Bartholomew. Kelly Slater also calls the southern Gold Coast home for parts of the year.
Infamous locals: Indigenous artist/ didgeridoo player Russell Corowa.
Weather: The Southern Gold Coast's climate is sub-tropical, with 287 days of sunshine on average a year.
Prominent industries: Health care, surfing, tourism, hospitality.
Town Fiestas: Cooly Rocks On, Bleach Festival, Swell Sculpture Festival and the QuiksilverPro.
Best place to take kids: Kirra Hill on Garrick St looks over most of Coolangatta and all the way north to Surfers Paradise. A huge eagle made of steel sits atop the hill. Further north, Currumbin Wildlife Sanctuary offers kids the chance to get up close and personal with all types of wildlife.
Best place to get a drink: Coolangatta Hotel offers live bands, DJs and cold drinks on most nights. Bread and Butter in Kirra have lounge bar style tapas and great DJs on weekends.
Best food: For a great breakfast head to Bellakai Restaurant on Marine Pde in Coolangatta. Currumbin, Coolangatta, Greenmount and Rainbow Bay surf clubs all offer good value for money food and drinks. Grill'd burgers on Marine Pde, Coolangatta, are a healthy and gourmet casual dining option too.
Best art gallery/museums: Surf World in Currumbin has a massive museum collection of craft and famous artefacts from the sports history. Cafe Dbar at Point Danger in Tweed Heads has a great gallery connected to an equally good restaurant.
Best bakery: Kirra Pie Shop does a mean beed and peas along with other various tasty treats.
Best walks: The foreshore walking paths from Currumbin all the way to Point Danger offer great views and a smooth walking surface. Currumbin Valley has a variety of walking tracks and water holes to enjoy away from the beach.
Best view: Kirra Hill lookout offers almost 180 degree views of the coastline and Point Danger is great for whale watching.
Best mountain biking: The Gold Coast Hinterland offers plenty of trails for the beginner through to the advanced mountain biker.
Best place to pull over: A quick and easy rest spot is Tugun, just to the south of Currumbin. It offers quick access back to the highway and a little set of shops where you can get a coffee or cold drink.
Best playground: The pirate ship park just on the north side of the Currumbin Bridge has to be number one. Families drive from all over to play there. Dog friendly and a huge play area for the kids.
Here for a short time: Stroll along Pacific Pde in Currumbin, starting at the south end heading north you can take in beach views, shops and Elephant Rock all in the space of 1km.
Best adventures: Stand-up paddle boarding in Currumbin Creek, fishing charters and skydiving at Kirra, Currumbin Wildlife Sanctuary and Currumbin Rock Pools.
Best swim: Rainbow Bay is nestled into the corner southern corner of Coolangatta just before Snapper Rocks. It offers a large lagoon on high tides for the kids and still has fun waves for the keen body surfer. In most wind conditions this beach offers protection.
Wildlife: Currumbin Valley offers a variety of wildlife from wallabies and kangaroos to koalas, goannas and more. At the beach it is not uncommon to see pods of dolphins and whales passing within a few hundred metres.
Safety warnings: Surf conditions can get rough in cyclone season (December to April) and weather fronts come in quickly. Always swim between the lifeguard flags.
CHECKLIST
Getting there: Air New Zealand flies from Auckland to Gold Coast Airport.