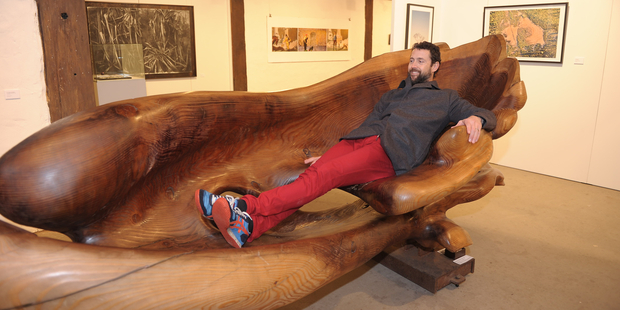 I've never considered an art gallery needed to be anything more than looking at art in a building and then exiting through the gift shop.
In Melbourne, a world cultural capital with a population about the same size as New Zealand's, there's plenty of this available. You can't biff a boomerang without hitting an internationally renowned gallery - and hitting another one on the way back.
The NGV (National Gallery of Victoria) and the ACCA (Australian Centre for Contemporary Art) are the most salient of Victoria's galleries; but the two places I found last month have probably spoiled me for your pedestrian art experience.
Both the Heide Museum of Modern Art and Montsalvat are sprawling art precincts that make for eye-opening visits. One has a history of seminal art, outstanding architecture and fascinating sexual adventure; the other one is an interactive, living art community where artists live, work and exhibit in medieval buildings.
Montsalvat was set up by an eccentric artist called Justus Jorgenson in 1934 as an artists' community on five hectares of sloping land. Since then it has been gradually populated by buildings, each with a medieval aesthetic.
As I walk along the paths, the turns reveal first the giant brick art barn and then the stone medieval long gallery, the giant gothic great hall and then various stables, workshops, cottages and sheds in medieval style ? all half-timbers, mud-bricks, thatch and render.
It's only half an hour from Melbourne but, apart from the film crew using the Great Hall, it feels like half a millennium away, as if the whole place is a Bruegel canvas.
At Montsalvat all forms of art are created, performed, taught, exhibited and celebrated. It's a hive of activity. As well as the exhibitions in the art barn, artists vie for residencies and scholarships and you can meet them at work in their cottages and workshops.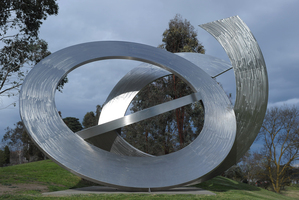 Stooping through a low doorway, I walk in on luthier Chris Wynne teaching a couple of bearded acolytes how to craft guitars. He infects me with a love of his art, showing me every corner of his workshop, thrusting wood into my hands and lighting up with joy at my questions.
I'm curious about the woods he uses so he dashes out to his wood drying room and cuts me some samples of fragrant huon pine, black heart sassafras, tiger myrtle and the dark, hard gidgee. If I lived in Melbourne I would become his pupil; I already have the beard.
In another cottage we meet artist Susan Reddrop. Glass sculptures and photographs depict her latest fascination, pregnancy. Around the stone walls hang large photographs of a pregnant woman with her face obscured, draped naked in odd positions over, or framed by, the stone architecture of Montsalvat. They seem to me almost uncomfortably intimate.
"That's me" says Susan, smiling. I didn't expect that and suddenly feel a bit provincial. I manage a little "wow".
I have to leave before I've seen half of the buildings or met half the artists. I'm disappointed to go, but the highlight of my entire trip to Australia is coming up at the day's other art experience, Heide Museum of Modern Art.
Step into the grounds of Heide and you step into a farm, a sculpture park, an art precinct, and you step back into Australian art history. Heide's three buildings march you from the birth of the Australian voice in painting through to contemporary Aussie art.
In 1934 wealthy art patrons and socialites John and Sunday Reed bought an old dairy farm near Melbourne. They called it Heide (say 'Heidi' - it's short for nearby suburb Heidelberg) and cultivated an art circle which became the crucible of Australian modernism, and from which some of Australia's most famous works emerged.
They also cultivated a significant art collection and a thicket of intertwining personal relationships that makes the story even more interesting. Sidney Nolan, the Heide Circle's most famous giant, was also Sunday Reed's lover for many years. His Ned Kelly series, perhaps Australia's most famous paintings, were made in the first building we visit - Heide I.
The old 1870s farmhouse, now called Heide I, where the Reeds and their guests lived, read, ate, painted and famously took a modern approach to sexual relationships, now houses exhibitions from the extensive collection.
Just a short walk down the hill past sculptures by the likes of Anish Kapoor is Heide III, a large, stark, modern art gallery built in 1992 to house and exhibit the growing collection. The exhibitions held in Heide III make the place a true museum of modern art. But it is our final stop, the house they call Heide II, that I fall in love with.
In 1964 John and Sunday Reed commissioned Melbourne firm McGlashan Everist to build them a new house. The result was the winner of Victorian building of the year when it was built, at the height of mid-century modernism, and is now seen as perhaps the best example of international modernism in Australia.
Calm, solid, made of limestone block walls, terrazzo floors and wooden-panelled ceilings, the door-less, labyrinthine layout calmly reveals a double-height gallery-lounge, a conversation pit and simple, built-in furniture made of the same terrazzo as the floors. Windows fill walls and frame different views of the sloping grassland and gum trees outside.
I walk around the house, quiet and awestruck. I've always been a fan of this sort of architecture but I've never been in a building remotely like this. I barely notice the exhibition which graces the cool limestone walls. I'm building a house myself this year and Heide II arouses a reverent form of jealousy.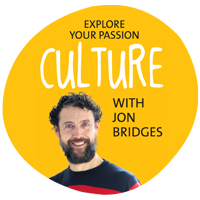 It's easy to think of Australia as our big, brash brother - all Surfers Paradise, rugby league, kangaroos and desert - and to forget the cultural treasures that can be found in a country of 23 million people. Near Melbourne, these two very different places showed me two new ways to celebrate art.
IF YOU GO
Getting there: Fly there with Air New Zealand.
For more information see: Explore - Culture.
Jon Bridges travelled to Victoria with the assistance of Tourism Australia, Tourism Victoria and Air New Zealand.