The Australian Garden Show Sydney was designed to challenge the supremacy of the Chelsea Garden Show as the world's leading event for horticulturists. They do think big in Australia.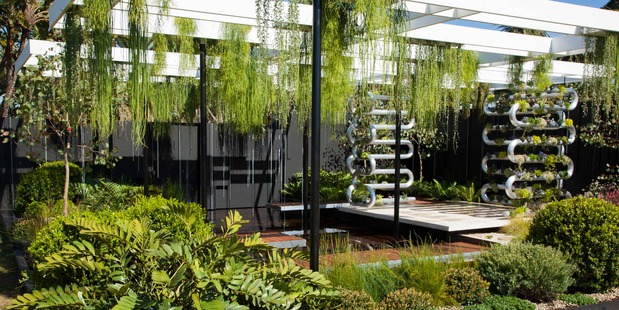 On Wednesday, the Australian Garden Show Sydney opened in a corner of the grand historic Centennial Park, amidst the cries of the ibis bird and the surrounding ecalyptus aglow with pink and blue uplighting, as guests wandered around examining the fruits of the designers' toil. More often, the toil of the designers' teams of busy workers, many of them TAFE students.
It's hard and rather weird work creating a garden for a show such as this, as we have seen many times before with the Ellerslie Flower Show. It's a delicate balance between pure commercialism, with local businesses vying for custom, and the effort to present each garden as established and natural often doesn't work because of the temporary nature of its production.
But, led around the show's 13 competing designer gardens by flamboyant British designer Andrew Fisher Tomlin (dressed for the occasion in a loud floral suit of shorts and jacket; he cut a dashing figure), we were given some sort of insight into the thinking behind the swathes of banksia and grevillea.
Fisher Tomlin, who sits on the selection panel for the Chelsea Flower Show, has never visited Australia before yet dared to create a garden inspired by the great southern land, called September Sky. It's a large attractive plot jammed with 2500 native plants, including flowering dorianthus, which send bold red flower stalks shooting into the sky, and eucalyptus, set amidst 80 tonnes of large rocks.
Fisher Tomlin's design includes a sheltered area where you can lie at night and gaze up at the stars, something you can't do in Britain, he says, because of smog, and a seating area made, peculiarly, of a heaped jumble of wooden pallets. An ideal nesting place for snakes and spiders, matey.
The AGSS is, like most of its kind, a showcase of decking, water features, stone, intensive planting and some decision-making you wouldn't want to see in your own backyard. One such entry, Suspended by Brendan Moar, included hanging coils of stainless steel, reminiscent of a huge bathroom towel heater, planted with succulents, violas and pansies, surrounded by decking, water, trellises and Japanese box japonica. I thought it was unconvincing. But what do I know? Later that night, Suspended won the Best in Show prize.
The Kitchen Garden, by former TV presenter-turned urban garden advocate Indira Naidoo, looked like a dream from a distance: a vision of beds of closely planted herbs and vegs. Closer inspection revealed that all of the plants were in pots, jammed into beds of hay. So more of a garden centre than a garden.
One smaller garden called Nest (I didn't catch the designer's name) was especially pleasing, though, because it was so simple: a symphony of grasses moving gently in the breeze, pared-down colours illuminated by three bright Japanese coral bark trees with a "bower bird nest" in the middle complete with the little blue objects the birds like to collect. A nice quiet place.
But my favourite was The Last Place to Leave Garden, by Jim Fogarty, a tribute to the fallen soldiers of Gallipoli. Inspired by a poem by a young Aussie digger, Fogarty has made a "trench wall digout" (ie, a place to sit in the garden) surrounded by a beautiful and soothing array of Australian natives, including kangaroo paws, banksia, bottlebrush and grevillea.
The show, which continues until Sunday, is supplemented by a range of lecture series called The Seeds of Wisdom, open gardens throughout the city, walking tours and "paddock-to-plate" food and wine events at restaurants. Why, even David Jones department store has joined up, with huge floral displays on its ground floor space inspired by New Zealand designer, the late Florence Broadhurst.
The show's organisers - a partnership of state funders and private sponsors - hope it will become an annual event "for ever and ever", as voiced at the opening-night prize-giving event by New South Wales Governor-General Professor Marie Bashir.
The good thing about the AGSS is that it does provoke thought about urban living spaces. Gazing out of my hotel windows across to the expanse of Hyde Park, one can't help but wonder about much Auckland would be improved if the city also had such a green breathing lung in its centre. What if Queen St became a park? Like the Aussies, why can't we think big?

Linda Herrick travelled to the Australian Garden Show Sydney as a guest of Destination NSW.
- nzherald.co.nz