Beasts of Australia, whether winged or mere bones, fascinate Chris Reed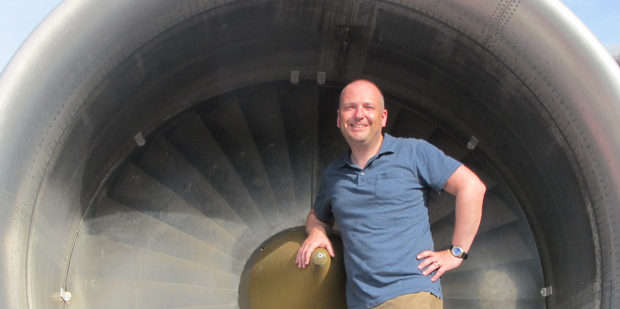 Even after all these years they're beasts.
Three storeys high, four $8 million Rolls Royce engines each weighing more than 6300kg, total weight about 180 tonnes.
When I was growing up, the Boeing 747 was the daddy of the skies, an impossibly large affront to the laws of physics.
So there's no small amount of childlike glee when I'm given almost free rein of the City of Bunbury, the "jumbo" that forms the centrepiece of the Qantas Founders Museum.
I get to pose by one of those giant engines, sit in the pilot's seat and finally find out what's up the stairs. (I never could afford business or first-class travel.)
All are features of various tours, along with the opportunity to walk the wing. It's higher than it looks.
Beside the 747 is a 707, an example of the first jet aircraft flown by Qantas.
It was formerly owned by an Arabian prince.
The fixtures and fittings are state-of-the-art, at least for the early 80s - it boasts VHS and Betamax video recorders.
I'm no aviation nut, but the tours were fascinating. Expert guides will answer any query, however paranoid. I was relieved to find out a 747 can operate on only one engine, at least for a short time.
If the Boeings represent Qantas' more recent history, much of the rest of the museum is devoted to explaining how its founders created what would become one of the world's biggest airlines.
Formed in Winton in 1920, it shifted to Longreach the following year.
The privately run museum is built around the original 1922 hangar used by technicians and passengers alike.
A second, new building houses the main displays and a replica of an Avro 504K, one of Qantas' first two aircraft, capable of carrying only two passengers. There are also replicas of two de Havilland models that succeeded the Avro.
There's plenty of interest for all ages, including films and flight simulators, and it takes several hours to see everything properly.
And then from aviation history to ancient history.
Banjo is a very different kind of beast. That's the "pet" name for the toothy 5m hunter australovenator wintonensis uncovered by the team at the Australian Age of Dinosaurs. Think one of Jurassic Park's velociraptors on steroids. The non-profit organisation has developed the world's largest collection of fossils from Australia's large Cretaceous dinosaurs since its formation in 2002. One of its aims was to ensure Australia was no longer "at the bottom of the pile" when it came to world dinosaur discoveries.
Staff and volunteers hold regular digs and have found bones from at least four new species.
The museum is atop a 70m mesa known as The Jump-Up, offering fine views.
The new award-winning main building houses key parts of the collection, including many of Banjo's bones. The story of Australia's evolution and the age of dinosaurs is told in a short, simple audio-visual presentation.
A short walk away is the original museum - essentially a warehouse containing a laboratory where fossils are painstakingly catalogued and prepared for display.
The Outback must have been teeming with dinosaurs. There are boxes and boxes of ancient bones waiting to be prepared and catalogued.
You can book to help prepare bones in the lab or reserve a place on a multiple-day dig. The digs make Lonely Planet's 2013 list of top 10 places to hunt for treasure.
They're not cheap, but it's not every day you get to unearth a dinosaur.
Online: qfom.com.au, australianageofdinosaurs.com
• Chris Reed travelled as a guest of Qantas and Queensland Tourism and Events.