Liam Dann finds a day at the Gold Coast Sevens perfect for father-son bonding.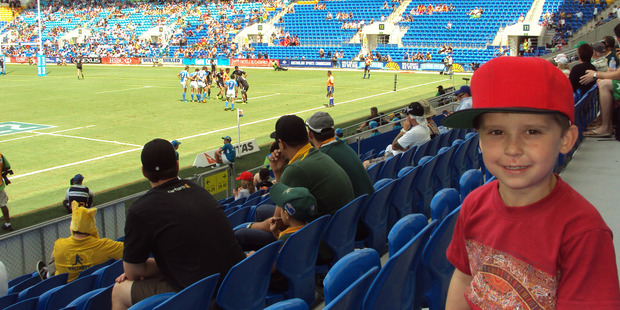 Father-son bonding - you've got to start early, right?
We are on the Gold Coast for a week and the International Sevens are on. So rugby it is. Why not?
It is a lazy Sunday afternoon, and it is finals day.
With Mum and the rest of the kids off to Tropical Fruit world, 4-year-old Theo and I jump out at Skilled Park, a 27,000-capacity venue home of the NRL's Titans.
Walking in with the crowd provides a great reminder of how Pacific-focused the Gold Coast has become. All the Island nations, and Kiwis, are heavily represented. We probably outnumber the green-and-gold supporters.
True to form, everyone looks like they have a bit more dosh - GC-style.
This is Theo's first time at a major sporting event and his first time at a big stadium.
I wasn't allowed to brave the wild crowds of Lancaster Park until I was 10. The highlight of one match back then was watching a varsity student get so drunk he stripped naked and urinated on his own clothes.
The Gold Coast Sevens is far removed from such debauchery. Professional sport these days goes out of its way to create a family environment.
There's a bouncy castle and dodgem cars and the fancy dress Sevens is famous for.
Gold Coast Sevens hasn't yet hit Wellington's heights as a costume festival. Still just in its second year, the aim is to grow it in similar style.
That said, if the young Kiwi blokes in front of us are any guide it looks a grand spot for a sunny afternoon of beer and rugby.
I play it safe with a two-beer limit. Theo's happy because he gets chips and a drink.
After some initial awe at the size of the venue he's revved up to watch some rugby and can't wait to see the All Blacks. You know, the "Seven's All Blacks". Shhhh ... close enough when you're 4.
Sevens is a great form of the game for kids. It moves so fast, you can generally see the ball, seven minutes each way and on to the next one.
Theo knows a few countries too. We go for England in one game because Auntie Katie lives there. They win.
We go for France because of our friends Luka and Thomas. If a team looks like losing we just switch allegiance.
After about an hour and half he's getting restless so we hit the amusements. He's game for the dodgem cars, a slightly overconfident call that ends in tears, but there are some high-speed adrenaline thrills along the way.
But we head back to our seats happy and I grab the second of those beers. He hits the icecream.
Time for the All Blacks versus Argentina. Quarter-finals rugby.
I'm realistic enough about kids to know this is just an afternoon outing, so this is the big game for us.
And it is tense. Just like the replay of last's year's World Cup quarter-final it looks for some time like it could go either way. But the All Blacks win. Celebrations - it might as well have been the World Cup final as far as Theo is concerned.
We settle back, the boy cuddles up on my knee as I sip the beer slowly and watch the shadows get longer and the crowd more boisterous.
The singing gets louder. From Gangnam Style to Country Roads. What a hit. The crowd sings on, completely ignoring the restart of the next game.
But it doesn't matter. It isn't just about the rugby any more. It is all atmosphere.
Theo has fallen asleep, the excitement has been too much. I watch a couple more games, then it's time to meet the team on the way back from Tropical Fruit world. I carry out my dreamy lad, waking just enough to recall his dodgem triumph as we pass out the gates.
Father-son bonding - mission accomplished.
CHECKLIST
Getting there: In partnership with Virgin Australia, Air New Zealand flies daily to Coolangatta Airport on the Goldcoast. Skilled Park Stadium is located in Robina just 13km from Surfers Paradise.
Accommodation: We stayed in the family-friendly apartment at Wyndham Surfers Paradise. +61 7 5579 6500
Liam Dann travelled the Gold Coast with assistance from Air New Zealand and Queensland Tourism.