The Gold Coast is rebranding itself as a sporting mecca, finds Cliff Taylor.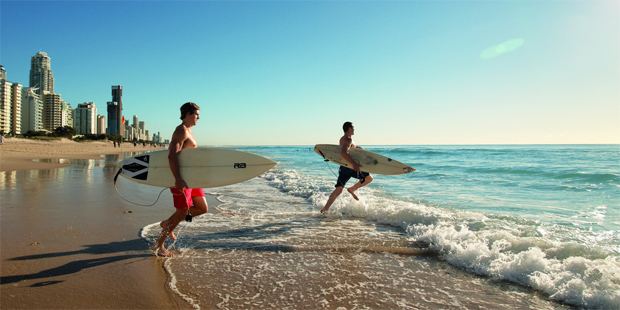 "So what's that big thing? Is that the mast?"
No, I'm not making it up. That brilliantly ditzy comment uttered by a blonde travel agent caused hilarity among the assorted journalists and travel industry types on board the 68-foot ocean racing yacht, Geraldton Western Australia, off the coast of Tauranga.
We were there to take part in a fun duel against the other Australian boat in the visiting Clipper Round the World Yacht Race, Gold Coast. And, as it had done for all five previous legs of the race, Gold Coast was leading comfortably.
The Clipper event is unique in that the vessels are crewed by paying non-professional sailors. Our crew - the actual sailors that is, rather than our rather motley collection of landlubbers - featured a former CEO of a large charity and a mum who usually works in a youth prison. But, after battling 20m waves and 65-knot winds across the Southern Ocean over the previous few weeks, they were now ocean racing veterans living the experience of a lifetime.
The oldest sailor in the race, and one of two New Zealand crew members on Gold Coast Australia, was 72 year-old Fred Tooley. His adventure was the fulfilment of an ambition he had harboured for more than half his life, and arriving back home after the gruelling Southern Ocean leg was an emotional experience.
"When I first saw New Zealand it was down by the bottom of the South Island, coming around Stewart Island and I had a little cry then," said Tooley. "I really didn't know what to expect of myself, I was really quite surprised. With the last 20 miles and only a couple of hours to go, I sat on the side of the boat and just reflected and it's so fantastic."
All 10 yachts in the Clipper are sponsored, usually by a city or region. For the Gold Coast, with its vessel leading the charge around the globe, it's a priceless opportunity for the city to get its message out that it is setting the pace in sports and activity tourism.
Once viewed as a strip of pleasant white sand beaches somewhere near Brisbane, the Gold Coast is now being rebranded as Australia's sixth largest city, its precincts including the well-known Surfers Paradise, Broadbeach and Coolangatta.
Originally known as the South Coast, it officially adopted the name Gold Coast in 1959 as a way to capture the essence of the place as both a holiday destination and as an attractive region in which to invest, especially in property. Clearly, it also intended to capitalise on the coast's sunny, surfie character.
But part of the current rebranding is also aimed at transforming that easy-going sun and sand image into something a bit more active - nothing less than "Australia's fastest-growing sporting city".
Winning the race to host the 2018 Commonwealth Games, announced in November, is a huge coup for the Gold Coast, which already receives more than 11 million visitors a year.
"In 2018 we will be ready to host a unique world-class and friendly event that builds on the Commonwealth brand and enhances our city's reputation," crowed Queensland premier Anna Bligh. "This city will be transformed with new infrastructure and a buzz that only a big international event like this can bring."
The Government has already announced half a billion dollars of direct investment in venue and transport infrastructure to cope with the 120,000 extra tourists expected to visit the city.
Of course, the attractions of the area are not unfamiliar to New Zealanders. Of the more than one million Kiwis who visit Australia annually, 20 per cent head to the Gold Coast to take advantage of its 300 days of sunshine a year.
But for sports fans, both participants and spectators, there is now much more than the beach to enjoy. Three years ago this city of 500,000 inhabitants had no national sporting teams. Today it boasts four - the Gold Coast Suns AFL team, the Titans NRL side, Gold Coast United A League football team and the Blaze in basketball's NBL.
The Gold Coast boasts a packed schedule of upcoming sporting events.
Surfing lessons are offered up and down the coastline and many venues hire out a wide range of recreational equipment for sport including jetboating, parasailing, kite surfing, diving, jet-ski safaris, snorkelling, tall-ship cruising and yachting.
And if gratuitous adrenalin is your fix, several theme parks around the city offer roller-coasters and rides pulling various levels of G-forces.
There are also more than 40 golf courses around the city for those who prefer golfing in the sunshine rather than driving wind and rain, as can often be the case in New Zealand.
If that's all a bit much, there are a few quieter activities to enjoy on the water. Humpback whale watching tours are available from June to September.
For those who can drag themselves away from the 70km of coastline, there are 100,000ha of World Heritage rainforest to explore.
The Hinterland Great Walk links the Lamington and Springbrook national parks and nature lovers can swim in waterfalls or discover ancient Aboriginal culture and hand-feed rainbow lorikeets at Currumbin Wildlife Sanctuary. A waterways expedition through the region's many canals and Broadwater provide a gentle contrast to the faster-paced water sports on the coast.
Broadwater is a large shallow estuary stretching from Southport to the southern section of the World Heritage Listed Moreton Bay, the only place in Australia where dugong gather in herds. The estuary or lagoon is separated from the ocean by the thin strip of Stradbroke Island.
The Gold Coast also claims about 600 restaurants and cafes, including beachfront dining at one of the many surf life saving clubs. Food shopping experiences range from gourmet delights at Ferry Road markets and exotic fruit at Tropical Fruit World, to food-and-wine trails and farmers' markets.
When all that running around and eating gets too much, there are luxury day spas in which to unwind and destress, and Jupiters Casino for a flutter.
* Air New Zealand Book now, Pacific Blue/Virgin Australia and Jetstar all offer direct flights from Auckland to Gold Coast Airport, Coolangatta, 25 minutes from Surfers Paradise.
Find out more at Australia.com