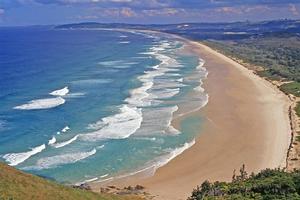 You won't find it on a map, but the Last Chance Saloon can be found in Oz. Not that I even knew we needed to find it.
I'd never heard of babymoons either until the news of our expectancy began to spread.
Then once the standard "what is it?" "when is it due?" and "really?" questions were done with and the gingernuts had been dunked, the follow-up inquiries always began with: "So, where are you going?"
Going? Why would we be going somewhere? Concentrating on not freaking out seemed to be filling my days quite nicely.
But such trips seem to be quite the thing among newly pregnant parents these days; it's about living life while you still can.
Then, when I finally read through the small print of babymoons for dummies, I found that the focus is supposed to be on stuff such as feelings, quality couple time and romance. That doesn't seem to leave much room for proper holidaying, but okay, I'll play along.
The potential restrictions get even tighter when you start considering destinations.
For starters, travelling long distances can be uncomfortable for both bun and oven while temperate weather is always better than scorchio, and it's definitely advisable to be near quality healthcare with a trustworthy supply of electricity.
Australia it is then.
Any convincing I may have needed on the reality of babymoons ended when we saw how many resorts are now offering pre-parental packages.
In the end we settled on The Byron at Byron, a resort occupying a lovely spot in the middle of a coastal rainforest within a 10-minute drive of the Byron Bay township.
Flights from New Zealand disembark at the not-so-adjacent Gold Coast airport so they operate a shuttle service which comes with a great commentary on the good old days of Premier Joh Bjelke-Petersen, one of this country's more notorious exports.
The BaB feels purpose-built for intimacy. In a region known for a panorama of ocean vistas, this bit prefers snuggling up to the jungle.
Actually, it rather threw me for a bit, I think we're preprogrammed to expect resorts to come with standard-issue views. Instead, we are confronted by a wall of branches that loom in primevally rather than cuddle fashion. And being junglesque, they also come with sundry wildlife; several examples of which, like the bush turkeys and a cute baby possum, seem quite happy to wander up for a look-see.
It's all utterly gorgeous when lit up at night. Just remember, this is Australia, if you go for a stroll along the boardwalks, stick to the boardwalks.
In terms of catering to pre-parental needs, our package provided a hefty giftbox and the choice of pampering options.
She went for the full body spa, I went for the massage. She exited with glow on full-beam while I shuffled off for the remedial bath to soothe a brand new collection of aches - lovely stuff.
As an optional extra, the BaB also hosts morning yoga sessions with poor old Sheldon. Don't get me wrong, he's a gentleman's idea of a gentleman, with that slightly stoned persona you often find in your long-term hippy, but I imagine teaching the rudiments of sitting up straight to novices on a daily basis must play havoc with his chakras. Still, it did my bung hip no end of good. I recommend him.
Byron Bay itself is in flux. After long being associated with bohos and some large music festivals a quick look at the local real estate offices found only one property available for less than a million.
It's easy to see why the retirees are a-flocking; a lazy waddle around the coast to the lighthouse paid off big time. Okay, I'm exaggerating slightly, but I doubt any spot along the cliff could have been found to jump from where I wouldn't have landed on a whale. Maybe someone had dropped an electric heater into the ocean, but they were leaping about like flippered lemmings.
I stared until I'd worked up an appetite fit for the three of us. Now, I can assure you that the BaB has a perfectly fine restaurant with an especially fine wine list, but if it's gnocchi you're after, St Elmo's tapa bar had the best I've ever scoffed.
So, after three days, that was it for our babymoon. Who knows, maybe our wee man will take us back there some day and we will show him the places he's already been to?
CHECKLIST
Getting there: Air New Zealand has regular flights to Gold Coast Airport.
Babymooning: The Byron at Byron offers lots of special packages, including for babymooners.
Further information: For more about visiting Queensland see queenslandholidays.com.au.
Alan Perrot went babymooning with help from Air New Zealand and the Byron at Byron.

Getting There
Fly there with Air New Zealand Book now
Find out more at Australia.com