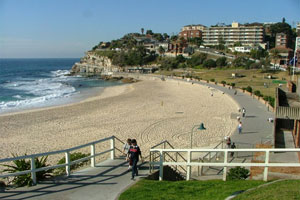 Fashion blogger Isaac Hindin Miller rounds up some of the best things to do in Sydney beyond Bondi Beach and the harbour bridge climb.
Fratelli Fresh
After a particularly enthusiastic recommendation from a lady on my plane (she said they served the best Italian food in Sydney), I grabbed two friends and headed to Fratelli Fresh in Waterloo. It was packed. Swarms of hungry diners crowded around two giant blackboards/menus, and after a ten minute wait, we were seated between two aisles (the restaurant is a grocer by day), with a pineapple placed in the middle of our table as a decoration. The food lived up to the hype, and it was a bargain - A$65 for all three of us.
7 Danks St, Waterloo.
fratellifresh.com.au

Mitchell Rd Auctions
Let's say Ponsonby Road's Real Time and Richmond Road's Flotsam and Jetsam got together and had a love child that outgrew the both of them.
The result would be Mitchell Road Auctions. On the ground floor is a giant space filled with things - weird things, beautiful things, hideously ugly things - all going under the hammer in their weekly Tuesday auctions. Upstairs is a giant space filled with all things vintage - lamps, teacups, Coca Cola memorabilia, tables, chairs, art... everything you might ever need to decorate a house.
76 Mitchell Road, Alexandria.
mitchellroadauctions.com
Bronte Beach
Not only a beautiful beach crammed with beautiful bodies (and a damn sight quieter than Bondi), but also a haven for the most bogan of all Australian beach bogans - the locals. You can't miss them. Just look for the gothic script BRONTE tattoos. And, if all that bogan-spotting gets a bit too much for you, cafes and restaurants are a mere two-minute walk from the water.
Baha'i Temple
About 45 minutes drive north of the city in the bushes above the Northern Beaches lies a tranquil and serene grassy area. On that tranquil and serene grassy area sits a giant nine-sided Baha'i temple. Open to people from all faiths, ages and countries, it's a truly welcoming place.
173 Mona Vale Rd, Ingleside.
Kate Sylvester Store
If you're going to open a Sydney flagship, it may as well be on Oxford Street. In Paddington. With your Kiwi mates (Zambesi and WORLD) right around the corner. Best of luck to Kate Sylvester who opens her first Australian store in the second week of December.
168 Oxford Street, Paddington.
Pocket bar
A two-minute walk down from Oxford Street is Pocket. Named, I assume, for its size, Pocket Bar is a little walk-in place adorned with murals and with crates as chairs. It's perfect for a late night tryst or a quiet catch up with friends. Noise must be kept to a minimum due to its being situated below residential apartments but sometimes, just sometimes, silence can be golden.
13 Burton St, Darlinghurst.
pocketsydney.com.au
Andrew McDonald, shoemaker
Can you imagine anything so luxurious as a pair of custom-made shoes? Neither can I, so head to Andrew McDonald on William Street in Paddington to find one of the best little ranges of exceptional off the peg shoes in Australasia sitting alongside a myriad of leathers, soles and style options for the bespoke customer. If you ask nicely they might give you a tour of their workroom. My favourite bit - all the cobblers wear leather aprons just like the ones in the fairy tales.
58 William St, Paddington.
andrewmcdonald.com.au
Palace Verona Cinema
Sydney's answer to Auckland's Lido Cinema, Palace Verona on Oxford Street plays a boutique selection of art house, independent and popular films. I saw The Imaginarium of Doctor Parnassus. Go on a Monday night and it'll only cost you A$9.50.
17 Oxford St, Paddington.
palacecinemas.com.au
Five Ways
Literally an intersection with five streets coming off it, Five Ways is a ten-minute walk from Glenmore Road and has the finest selection of grocers, French patisseries, fishmongers, florists, Kiwi-owned cafes and high-end boutiques in Sydney. Try the gingerbread at Tiger Mottle, the fish and chips at A Fish called Paddo and the Balmain (if you dare) at Land's End.
Paddington.