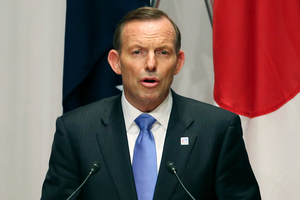 Prime Minister Tony Abbott is preparing to muscle up Australia for a future dominated by the rise of China, underscored by the growing wealth and power of Southeast Asian nations.
Successive Australian governments have been cautious in the wording of policy and defence planning, but the underlying assumption is that the nation's security is coming under increasing challenge.
This has been reflected in Canberra's progressive tightening of its already strong military alliance with the United States and, increasingly, Japan. Defence co-operation with both was moved up a notch during Abbott's visits to Tokyo and Washington this week, including moves to rotate more marines through Darwin and operate US warships from Australia.
Last month's budget saw defence spending rise by more than 6 per cent in real terms while social, welfare, health and environmental programmes were cut to the bone.
More is to come. Australian Strategic Policy Institute senior analyst Mark Thomson estimates that to reach Abbott's goal of 2 per cent of gross domestic product within the next decade, defence spending will have to increase by more than 5 per cent every year for the six years beyond the present four-year forward estimates period.
Now Abbott is pondering an aircraft carrier for the navy, a hugely expensive project that would reshape defence structure and strategy and present an entirely new face to neighbours already suspicious of the nation's intent.
He has instructed defence chiefs to investigate the feasibility of modifying its two new helicopter carriers to allow operations by the vertical/short takeoff and landing version of the F35 Joint Strike Fighter.
The new 27,000 tonne Landing Helicopter Dock amphibious assault ships, due to enter service within two years, are formidable enough. As well as helicopters they can carry more than 1000 fully equipped troops including tanks and trucks.
Only the US, China, Japan and South Korea operate similar vessels in the region.
There is no indication yet if the proposal covers both ships or only one, and whether any jump-jet F35B versions would be in addition to the 72 already ordered or part of an amended force.
Chief of Air Force Air Marshal Geoff Brown told a Senate hearing the idea should be examined with all other credible options.
The navy had earlier sought a third LHD as a jump-jet carrier. Cost ruled it out. But Abbott is forging ahead with new military purchases. As well as F35B fighters and the three overdue air warfare destroyers now being built, two 20,000-tonne supply ships will be built overseas, and initial design work will start soon on eight frigates to replace the present Anzacs.
A defence white paper will next year also outline plans for the replacement of the navy's six, troubled Collins class submarines. This could involve a doubling of the underwater fleet. The prospect of LHDs flying F35B jump jets is something else again. The ships are based on Spain's Juan Carlos aircraft carrier and retain its ski-jump flight deck. The Juan Carlos operates jump-jet Harriers and, potentially, the F-35B.
But mounting costs, development problems and operational constraints of the troubled version aside, the ships would need modifications including heat-resistant decks, new fuel storage and supply systems, and special weapons magazines. New radars and instrument landing systems would also be required.
As well as the huge costs involved, analysts say the modifications would inhibit the ships' primary role, producing limited air combat power and reduced amphibious capability.
The navy would also have to change. Aircraft carriers are big, slow, easy-to-find targets requiring a screen of warships and other vessels to protect and supply them at sea, reducing the navy's ability to fill wider roles.
Malcolm Davis, associate professor in international relations at Bond University, wrote in an analysis of the proposal that modified LHDs and F35Bs would be overkill for operations in the South Pacific, but would give more options and a layered defence for the primary role of defending Australia. "But it's also important to frame any debate over whether the F-35B could be a viable option for the ADF in the future by realistically considering the operational environment in which the F-35B will undertake operations," he wrote. "Where are we going to use those aircraft, against whom, and under what circumstances?" The neighbours would also be asking those questions. Apart from the US only China and India operate carriers.
Aircraft carriers are more about attack than defence, and projecting power into the region. China, concerned already by the tightening Australia-US-Japan alliance, would not welcome Australian carriers. Indonesia would also be disturbed.
Australia's defence planners, and their political masters, have much to ponder.