As Auckland merges to create a supercity, the Herald looks back at how Auckland has changed over the years. Click here to view the full series.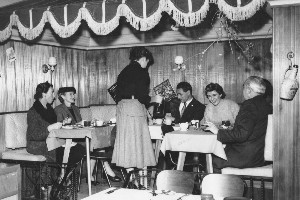 It is the fate of every generation to believe they invented the present and that the past had nothing to do with it.
Thus Aucklanders old enough to remember when you could dine at every restaurant in town in one week think eating out in the Queen City is a modern development.
Yet Auckland has a rich gastronomic history. As early as the 1850s, many hotels were offering an ordinary (the term for a fixed-price lunch), the Royal Exchange was advertising that "the most approved SOUPS are always ready throughout the season, from the hours of 11 to 4", daily and luncheon rooms took advantage of the midday trade.
As the colony prospered, the comings and goings of international travellers kept the hospitality trade here abreast of developments in Europe and America and well-heeled diners were served, on linen and bone china, spreads that would have satisfied the keenest upper-class appetite in the Old Country: oysters, champagne, fish, game, poultry, roast meats and cheeses.
In 1900, the Strand Cafe, in the newly opened Strand Arcade employed 15 cooks to serve meat and three veg to as many as 700 diners at a time. And by 1907 even vegetarians were catered for with a Sanitarium Cafe on Queen St serving nutmeat pie and vegetarian veal roast.
It is true, however, that dining out as 21st century Aucklanders know it did not exist until some hardy souls wrestled it into being in the 1960s. And the reason for the delay was the Licensing Act of 1917.
That fixed in law the 6pm closing time introduced in World War I as an austerity measure (and endorsed by the enthusiastic temperance movement) and limited to hotels the right to sell liquor. In their dining rooms, they could keep pouring until the heady hour of 8pm (the time at which the French and Italians start wondering about what to do for dinner), but the non-hotel restaurant disappeared from our social
and cultural landscape until 1961.
The stirring of a hunger for improved dining-out options can be plainly discerned by the early 1950s, as several social forces combined: returned servicemen had experienced the eating-out cultures of France and Italy; urban populations grew in number and diversity, as a flood of post-war immigrants arrived (including the Chinese fleeing another sort of cultural revolution) bringing their distinctive cuisines with them; and prosperity increased as the country shook off the shackles of war.
As early as 1954, Ponsonby was being described as Auckland's restaurant district and the perennial rivalry between Auckland and Wellington was being stoked by the weekly newspaper Truth, which observed that "Let's face it, Auckland, the brash, the boastful and the beautiful, leads the Dominion when it comes to dining out."
That writer would surely have been inspired in part by The Hi Diddle Griddle which had opened in the winter of 1953 at 507 Karangahape Rd.
The brainchild of a flamboyant American called Jim Jennings, it was modelled on the upscale diners of his homeland and served the waffles, hamburgers, steaks and French fries that the demands of hungry GIs had
introduced to local menus in the war years.
If the modern restaurant scene in Auckland had a single birthplace, it was at The Griddle.
Encouraged by its sensational popularity, the manager, Otto Groen, and Jennings opened Le Gourmet in Shortland St at the end of 1954 and tantalised diners with a real charcoal broiler, a refrigerated salad bar and dishes including chateaubriand and sole meuniere.
They were followed in 1956 by Bob Sell, whose La Boheme was in Wellesley St West. Sell promised superb cuisine for the truly discriminating and both places had faithful regulars, mostly from the business community.
Sell recalled for the Evening Post in the 1990s the prominent
businessmen dining there with their girlfriends on Friday nights who turned up the following night with their wives. Little wonder that Sell and Groen were the first two named, in 1992 and 1993, in the Restaurant Association's Hall of Fame.
These restaurants spawned a host of imitators and a new hospitality industry was born which evolved in parallel with the Dine and Dance culture born in the 1940s and still flourishing in the 1960s.
And, then as now - think Michael Meredith leaving The Grove to start Meredith's - successful employees became even more successful on their own account: Michael Marcinkowski, the respected head chef at Le Gourmet for a decade, brought fine dining to the North Shore when he opened Michael's Caprice in Huron St in 1966.
Until 1961, however, eating out in Auckland was - at least officially - a sober affair. Regular clients including judges and lawyers with a well-developed capacity for turning a blind eye to the licensing law secreted bottles in paper bags beneath the table.
Even when restaurant licensing was introduced - and next year marks the 50th anniversary of that - it was not easy to get one.
Four (of 10 nationwide) were issued in Auckland that year (there were 46 applications) and applicants had to deal with nitpicking regulations (restaurants had to have a coat hook for every diner and a carpeted floor, and only diners who ordered three courses could drink).
Meanwhile inspectors were a law unto themselves: Tony White who opened the first of his eponymous steak-and-spaghetti houses in 1963 recalls one who decreed that serving farinaceous food (which meant pasta) couldn't qualify.
So, in the second half of the century, there was both the will and talent to establish good restaurants but a mature dining-out culture was slower in coming. The battle to establish licensed eating houses was daunting, because entrepreneurial restaurateurs were up against an unholy alliance between the booze barons (who didn't want their turf trodden on) and the wowsers.
It was not until 1976, when diners were at last allowed to take their own wine to unlicensed premises, that dining out began to come of age.
The explosion of eating-out options in the past generation has hinged on two developments: a profusion of specific cuisines - notably Italian, Indian and Thai - has answered the demands of an increasingly welltravelled populace; meanwhile a small legion of world-class (and in
some cases world-famous) local chefs have developed a distinctive Pacific Rim style that melds classical European technique with the fragrant flavours of Asia and capitalises on our rich larder.
It would be a brave soul who would pick the direction Auckland restaurants will take in the next 50 years, but it's safe to say diners
will be spoiled for choice.
Reference: Perrin Rowland, Dining Out: A History of the Restaurant in New Zealand, to be published by Auckland University Press.