As Auckland merges to create a supercity, the Herald looks back at how Auckland has changed over the years. Click here to view the full series.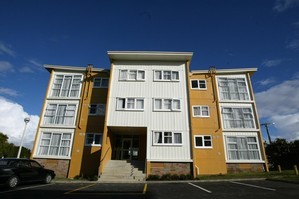 For many New Zealanders, the words "state house" conjure up a particular image: perky hipped roofs with concrete tiles; houses almost the same as their neighbours, but not quite.
That this image is so vivid is surprising because New Zealand in fact has a long and diverse history of state housing. It starts with workers' cottages built from 1906 and encompasses more than 100 years of house designs. It also includes semi-detached houses (duplexes), row houses of one and two storeys, and blocks of flats, some medium-density
and others high-rise.
To walk down Greys Ave or to drive around Glen Innes, Point England, Tamaki and Panmure is to appreciate the range of different housing types.
Of the many types, the star flats of the 1950s and 1960s are particularly distinctive and widely admired. A string of them can be
seen in Kepa Rd, Orakei, each a three-storey block with a dozen one- and two-bedroom units. The name derives from the combination of cruciform plan and butterfly roof. In Freemans Bay, the same design was utilised for Auckland City Council housing.
Yet amid this diversity the image of the "brick and tile" state house endures. Some would go so far as to call these houses icons of New Zealand architecture. They are recognisable to all of us because the country's first Labour Government built so many of them - about 30,000 up and down the country during its 1935- 1949 term.
A survey conducted in 1935 had concluded that about a quarter of the country's housing stock was substandard and worthy not of repair but of demolition. The state housing programme was conceptualised both to re-house the New Zealanders living in such conditions, and to stimulate
our manufacturing and building industries after the Great Depression.
In planning and appearance, these early state houses were far removed from the house type that had dominated 1920s New Zealand: the California bungalow.
Bungalows were increasingly seen as a low-cost option, combining reduced ornamentation, minimal hallway space and lowered ceilings. More than this, large numbers of bungalows were built according to plans published in plan books and were thus associated with builders rather than with architects.
In contrast, the English cottage aesthetic of most of Labour's state houses remained popular in architectural circles in the 1930s and early 1940s. It had the advantage of being an alternative to the perceived decadence of the Victorian and Edwardian periods, and to the low-cost stigma and American connotations of the bungalow.
Labour's designs, produced through the New Zealand Institute of Architects and the Fletcher Construction Company, were comparatively conservative.
Concurrently, the burgeoning modern movement was more adventurous, introducing openplan living areas, flat roofs and large expanses of glass. Labour's medium- and high-density housing schemes, such as the Greys Ave and Symonds St Flats (both 1945-1947), provided the Department of Housing Construction's own staff architects with the opportunity to explore these innovations - and both blocks were key buildings in the development of New Zealand's modern architecture.
Thus both the houses and flats of that first Labour Government
are being increasingly recognised as an important part of our built
heritage.
And Housing New Zealand continues to produce interesting new buildings today. This is demonstrated by community renewal projects such as Talbot Park, where additional medium-density housing has been introduced within a 1960s neighbourhood.
It's too early to say if this kind of work will be recognised as the
heritage of tomorrow, but if Housing New Zealand continues its current approach of using award-winning architects like Architectus to design its new schemes, it just might.
Julia Gatley is a lecturer in architectural history and design at the University of Auckland.