As Auckland merges to create a supercity, the Herald looks back at how Auckland has changed over the years. Click here to view the full series.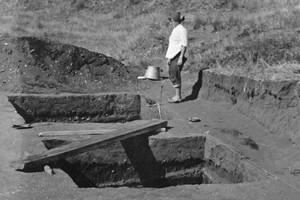 The earliest evidence of human settlement in Auckland dates from about AD 1300. Charcoal in the soil indicates that forests were cleared by fire at that time.
There is also evidence that people were living on Motutapu Island when Rangitoto first erupted from the sea about 1350. Traces of their settlement are buried under its ash.
The people were East Polynesians who had arrived in New Zealand about a century earlier on the evidence of radiocarbon dates. They probably came from the Marquesas and Society Islands (Tahiti) where closely matching artefacts to those found in New Zealand have been excavated.
The Polynesian discovery and settlement of New Zealand was the culmination of extensive exploration of the eastern Pacific. They had also settled in the Cook Islands, Easter Island, Hawaii and, briefly, Pitcairn and Norfolk islands.
Their navigational ability, attested by evidence of continued voyaging between the islands of central East Polynesia, makes it likely that New Zealand was discovered by purposeful rather than accidental voyages.
The presence of New Zealand obsidian in sites on the Kermadec Islands indicates that return voyages also occurred.
The earliest archaeological discoveries in Auckland, and New Zealand generally, are close to the sea on beaches, river mouths and harbour entrances where there was access to resources such as seals, porpoises, sea birds, and abundant fish.
Early period sites are relatively rare in Auckland and the Hauraki Gulf, occurring on Motutapu and Ponui Islands, at the mouth of the Manukau, on the West Coast and at the recently discovered early site at Torpedo Bay on North Head. It is likely that coastal erosion over the past 500 years has removed the evidence from many other early sites in the region.
The early period is marked by signs of continued long-distance sailing to exploit stone sources from as far away as Cook Strait.
What happened to these early sea-oriented people remains a mystery. They may have moved elsewhere, shifted their economy to kumara and taro horticulture, or joined other peoples moving into the Hauraki area.
Whatever happened, by about 1400-1450, people with a recognisably different economy were living all over the Auckland isthmus. They practised horticulture, digging garden terraces and kumara storage pits, as well as fishing and gathering large quantities of cockles and pipis from the extensive harbours.
Good quality gardening soils were at a premium and Auckland's volcanic lava fields and cones show extensive signs of use. Fields were marked by rows of stone and the volcanic cones were terraced for gardens, storage and house sites.
Radiocarbon dates indicate that the spectacular terraces on cones such as Mt Eden (Maunga Whai), One Tree Hill (Maunga Kiekie) and Mt Wellington (Maunga Rei), resulted from the multiple activities of gardening, storing, cooking and building.
Their well-drained slopes were particularly attractive for gardening and kumara storage. The cones are centrally located between the two harbours that provided important fishing grounds for shark and snapper.
Initial activities took place on lower terraces and people worked their way towards the summits. It seems likely that only a small proportion of each Auckland cone and its surrounding stone fields were occupied at any one time.
From 1500 on, the summits of the cones and settlements on the volcanic lowlands and headlands around Auckland's harbours show evidence of defences against attack. There are ditch and bank systems and larger palisades.
The presence of pa indicate greater social separation and a clearer marking of social boundaries during Auckland's later prehistoric period, possibly a result of pressure from the north by Ngati Whatua and from the south by Ngati Paoa, Ngai Tai and Ngati Maru.
Maori oral traditions note the arrival of many Maori canoes in the Auckland region, particularly the Tainui waka. Archaeology can document the presence of artefacts and note economic evidence in the form of shellfish, fish, and sea mammals, the distribution of settlements and the presence of fireplaces, garden terraces, storage pits and fortifications, but it cannot identify individuals or tribal groups.
What can be said is that there was a change in economic activity and in the nature and distribution of sites between the sea-oriented early period and the horticultural lowland settlement sites of the later period.
Whether this change can be linked with the intrusive arrival of peoples from overseas, or from elsewhere in New Zealand, remains unknown.
Much of Auckland's archaeology remains hidden from view. More than half the volcanic cones which existed at the time of first European arrival in Auckland have been quarried away for building materials and all have been damaged by quarrying, roads and the construction of water reservoirs.
The extensive areas of Maori settlement which previously covered the isthmus are now covered by the suburban landscape of Auckland. Almost all the headlands of the Waitemata Harbour had smaller pa, and these too have been destroyed by urban expansion.
The only areas where archaeological landscapes remain are on the islands of the Gulf - Motutapu, Waiheke, Ponui and others. This gives these islands immense value for archaeological conservation but they can also present a conflict of values with nature conservationists who want to return the islands to a pristine condition through revegetation.
The potential loss of Auckland's archaeological heritage is significant for today's residents, not only because there is still a great deal to learn about Auckland's past but also because an archaeological landscape is a reminder that things were not always as they are today.
Change is always a feature of human existence. Our beautiful harbours, volcanic lowlands, hills and volcanic cones once rang with different voices. The people who created these past archaeological landscapes were people much as ourselves, with similar desires, hopes and disappointments.
We owe it to them to recognise that the past they created in Auckland has contributed greatly to our future.
Dr Harry Allen is an associate professor in the department of anthropology at the University of Auckland.