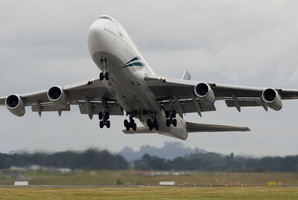 Residents from Mt Roskill to Howick have added their complaints about overhead jet aircraft noise to those of protest groups in Epsom and Royal Oak.
Noise concerns from a wide area of Auckland were voiced to the Herald after it reported the finish of a trial short-cut for landing at Auckland International Airport.
Since October 28 last year, the aviation industry has tested a satellite-based navigation system that allows flights coming from Australia in westerly winds to shorten the landing approach by 27km - saving about 5 minutes' flight. But residents below the trial's curved approach path - in Epsom, One Tree Hill, Royal Oak and Oranga - claimed noise nuisance from lower flying jets occurred more than the industry's claim of a maximum 10 flights a day between 7am and 10pm.
Royal Oak resident Lorraine Clark said about 2000 signatures had been collected for a petition demanding that all aircraft return to the original flight path.
In a response to the Herald website, Remuera resident Regan Hughes noted a "significant" change in noise from low-flying planes in the past year.
"We used to get the occasional helicopter but now we get very loud and fairly regular low-flying planes."
Mt Roskill resident Chantal said "noise starts before 6am, interrupts our sleep and makes the weekend at home unbearable with at least 20 flights passing over. We have had enough."
Howick resident Stephen Emmett said early morning flyovers were a fairly recent added nuisance.
Paul Hansen, of Royal Oak, said he bought his home six years ago when a more northerly flight path meant no adverse effects.
"I believe that the trial has not revealed half of what the reality will be when, or if, this change goes ahead. Of course by then, it will be too late."
However, Epsom resident Dave Koefoed said he refused to sign a residents' petition.
"It didn't bother us ... there was more noise pollution in our neighbourhood caused by irresponsible dog owners."
Gerard from the Stonefields development, in eastern Auckland, said overhead flights had increased from five to six a day in February to more than 25 by late July.
Airport general manager for aeronautical operations Judy Nicholl said public feedback was welcome on the "Smart Approaches" trial review report, which was expected in March.
The 10 flights a day in the trial were only 2 per cent of the airport's movements and the rest were fairly distributed over the city. Most suburbs would have some flight path over them.