The week before Christmas is the busiest of the year for Auckland International Airport. Sylvia Giles spent 24 hours at the terminal's entry gate, witnessing the drama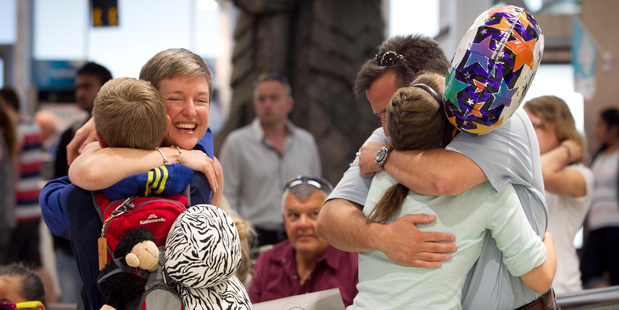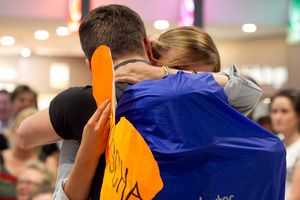 Eva Lenz embraces her boyfriend Aljoscha Zeisler passionately, ignoring the hundreds of passengers hurrying around them at Auckland International Airport's arrival gate.
The 23-year-old German last saw him five months ago - before she moved to New Zealand.
He will now join her at Otiwhiti Station, near Hunterville in the Rangitikei district, where she works as an au pair and farmhand.
The pair will celebrate Christmas with the family she's working for, then travel the country for a month before Mr Zeisler, 24, heads home.
Miss Lenz had been waiting right up the front of the arrivals area, pressed against the barrier with a neon orange, heart-shaped sign inscribed with her boyfriend's name.
Her eyes were just one pair among thousands glued to the automatic doors that open through from Customs, releasing passengers into the arms of their loved ones the week before Christmas.
This week last year, the number of passengers moving through jumped from 70,000, to nearly 92,000.
There are people who meet for the first time such as Edith McNamara who, after tight hugs with tearful daughter Carrie, embraces her new son-in-law, Ken Scarlett, for the first time.
Here for three months from Britain, the couple are to have their third wedding. "One was in a registry office," Mrs Scarlett says, still wiping the tears away from her eyes. "The other was in a bluebell woodland. And then we are having a ceremony in Tuakau."
There are more tears and smiles when, a few minutes later, UK grandparents Tim and Cherry Still meet their newest grandson, Daniel, just three months old. There are hugs, too, for their older grandchildren, Nathan, 2, and Joshua, 4.
Their daughter, Sarah Metcalf, says she has her parents for two-and-a-half months, but it's "just not long enough". They plan to go to Rotorua.
Gemma Cartwright is excited to welcome home her mum, Tracey, from the UK and has just bought her first house with her Kiwi husband, so she's also looking forward to hosting her first "grown-up" Christmas.
When asked how long it's been since she last saw her Mum, she quickly responds "twenty months", in a manner that suggests she's been counting the days. She confesses she has been.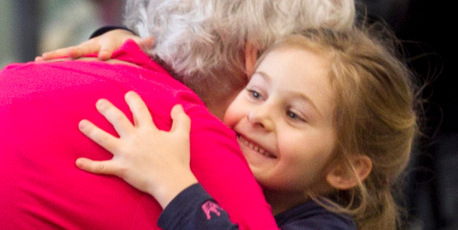 Bev McLeay is particularly happy to see her granddaughter, Natalia, who has come all the way from Poland with her mum and dad. The family are here for one month and plan to sleep, catch up with friends, and travel around the country.
Delia Viljoen is at the airport to welcome daughter Demi, 15, and son Degan, 14, who are back from a two-week exchange.
The two Macleans College, Bucklands Beach, students have spent a week in both Barcelona and Madrid, and when they come through the arrivals door, their brother Declan, 6, also rushes to greet them.
The family are also joined by Demi's boyfriend Jack, 15, who says he's glad to have his girlfriend back.
Another loved-up couple, Margot Van Limbergem - just landed from Belgium - and Kiwi boyfriend Tatai Dewes, seem oblivious to the people around them.
It's the first time they've seen each other since Mr Dewes moved back to New Zealand a couple of months ago. He has 19 days with her.
The busiest time for the arrivals area is after the landing of three A380 flights, which arrive in quick succession in the early afternoon at 1.45pm, 2pm and 2.30pm.
The terminal swells with people - and trolleys - and apart from a few overheard mumbling about parking, everyone is waiting patiently in every available space.
Andy Walsh is waiting for his family - who he hasn't seen in five years - including dad Ian, sister Katy and the real guest of honour, his mum Teresa.
The whole trip has been a carefully orchestrated surprise he has been working on with his sister for over a year. "Mum cried all the way through landing and security," he says.
About 4.30pm, the arrivals area is recovering.
It's a break until what the airport crew call "midnight madness" - flights mostly from Australia and the Pacific. It includes all those Kiwis who have moved across the Ditch.
But instead of Kiwi parents who have lost their children to the brain drain, brothers Nick and Andrew Thornton have instead lost their parents to it. They moved to Sydney where the pay is better and a small apartment meets their needs and saves on living costs.
Nick Thornton says they'll be back to retire once they've made and saved better money. In the meantime, the brothers, aged 23 and 24, are looking after the house.
The 2am flight from Apia in Samoa is the airport's overnight darling. Everyone waiting is there for the flight, and not a single person who comes through the gate is left to drift out to the taxi rank or out to a shuttle.
John Sang Yum is here to pick up his uncle, whom he hasn't seen in 10 years. Christmas is a chance for all the family to get together from across the islands - and for those who work too hard, a chance to relax.
Sana Matai, a minister, is waiting for his sister who has come from American Samoa. She is here because her daughter, 7, is sick and needs to travel to the US, and for that she needs a visa.
After three days here she will travel on to the US to apply for it in person. All Samoans, he says, need to do this, and it can be very stressful.
But there are also departures for Christmas.
At 6am, Mae Te Maari is singing to his guitar, filling the second floor with waiata. As he begins a farewell haka to a group of six young women in uniform, strangers gather. He is farewelling his 19-year-old daughter, Sister Te Maari, bound for Sydney where she will become a missionary for the Church of Jesus Christ of Latter-day Saints. She'll be away for 18 months, and the fact that her stint starts right before Christmas is bittersweet for Mae.
"But I'm very proud of her, and I'm not worried because I know she'll be okay. She's teaching the gospel."
"Love yous," calls out one of the girls, as they go through the gate.
Outside, Subway worker Gurmeet Virk has just knocked off and is taking the airport bus home. "It's good to see people around, and people from all over the world. It's amazing ... This week has been busy. People are always so happy. It's incredible."